Full Body Workouts
This page is for Full Body Workout Routines only.  You can do full body workouts when you don't have enough time in a week but you're still trying to get your Fit on ;).  You should never do more then 3 full body workouts per week, and you have to take a day break in between.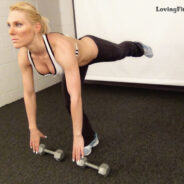 Today's workout was a complete muscle torture for the whole body. I think it's great to do these types of workouts at least once a week, it really kicks your body into shape. This workout felt like it went by really fast, but when I looked at the time it was a lot longer than I thought.
I was using a set of 10 lbs dumbbells, if you don't have dumbbells you can just use your own bodyweight or you can use a backpack and fill it up with books ( that will give you the extra resistance). Remember that you don't need equipment to workout, you just have get creative.
read more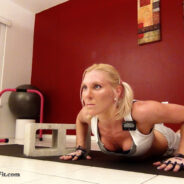 Today's' workout was really fun and it was some serious cardio! I absolutely loved this workout, it was tough, not boring and all over the place!
It was 30 minutes long ( my perfect number 🙂 ) and it had 7 exercises total. In the last round I was really struggling and loosing my breath, but I felt incredible once I was done.
read more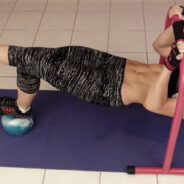 Today's workout is a combination of a circuit training and interval training cardio. In the first part of the routine you will be focusing on abs, booty and upper body. The second part is cardio. I am pretty sure you will be able to beat my time in the first part of the workout, because I was having quite a difficulty with the first exercise and trust me it's a lot harder than it looks. So that exercise kind of dragged me down a bit. I didn't even feel like working out today, but I pushed through anyway, but I felt incredible after I completed, and you will to :).
read more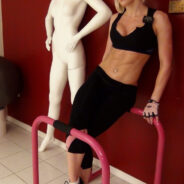 I had a whole different workout planned for today but since my new toy got here I had to change everything around – and it was fun! You don't have to use the equipment I am using, you can substitute it with chairs, I will show you how :).
Today's workout was at a very good pace, and it was 18 minutes long. I stayed very consistent with my reps. It's very important that your reps don't' drop too low ( from first to last round ), if they do, shorten the max interval.
read more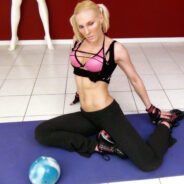 Today's workout is a combination of cardio and strength training. This workout was a really fun circuit, and after I finished I felt the burn all over my body, it kind of snuck up at me, LOL. I was using 8 lbs medicine ball ( non bouncy ), I love the extra resistance it gives me, but if you are a beginner you can do this workout with just your own bodyweight.
read more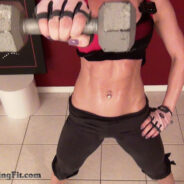 Today I did one of my recent favorite workouts that I found by an accident. It was tough and I had to rough it out, you have no Idea the relief I felt after completing it. This is the famous " Spartacus Workout ". I changed a couple of things to make it fit me more, I also did this workout last week, but I was using weights in the exercises that I didn't use today. I am posting my scores at the bottom of the post.
This workout is about 32 minutes long and has 10 exercises and it will target all of the muscles in your body, you might not even remember your own name after you're done :).
read more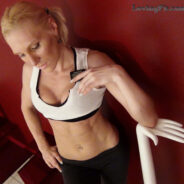 Today's workout was another full body workout, with especial focus on legs, glutes and abs ( 😉 as always ). The intervals I used in this workout were much longer than I usually use, and trust me 15 seconds of extra maximum work, will give you that extra burn you need. This workout is 27 minutes long ( including the 2 minutes break ) . I will be sharing my scores 🙂 as always at the bottom of the post.
read more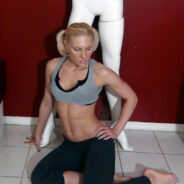 Today's workout was super fun, I was really exited to do it :). I got really sore from yesterdays workout, but I also know to help your muscles recover faster it's great to keep moving.
This was a whole body workout. I am so amazed that with only few great exercises you can target every muscle in your body. The more muscles we target during each workout, the faster our metabolism and our whole system works.
I posted my scores at the bottom of the post.
read more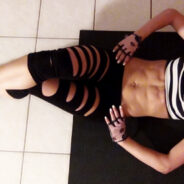 Today I did a circuit workout which wasn't very explosive as my usual routines. You will absolutely be able to beat my time, because I was not pushing my self as much as I should of, the insane humidity was choking me up, seriously my water bottle got warm after 10 minutes of taking it out of the fridge. I use to love summer so much, but ever since I moved to FL summer is a dread, makes me miss a cold as hell Russian winter :). In a few weeks it will get much cooler so get your self ready ;), because I will start making some crazy hard routines, they will also get a bit longer – it's time to re-focus :).
read more