Show It Off Workout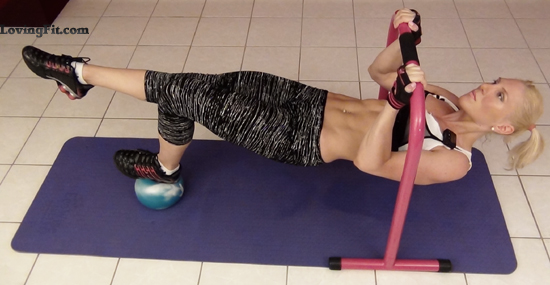 Today's workout is a combination of a circuit training and interval training cardio. In the first part of the routine you will be focusing on abs, booty and upper body. The second part is cardio. I am pretty sure you will be able to beat my time in the first part of the workout, because I was having quite a difficulty with the first exercise and trust me it's a lot harder than it looks. So that exercise kind of dragged me down a bit. I didn't even feel like working out today, but I pushed through anyway, but I felt incredible after I completed, and you will to :).
For this workout I was using an 8 lb ( non bouncy ) medicine ball ( for extra resistance but you don't need it if you are a beginner ), jump rope and my new Pink Lebert 🙂 aka " Lebert Equalizer ". But you don't need the equipment I am using, you can substitute with chairs like I showed you in the " Love Your Body Workout ".
If you don't have a jump rope, you can just do the high knees exercise without it. As I mentioned earlier, you can find the same medicine ball I am using for under 10 dollars, I found it in one of those outlet stores.
Show It Off Workout Video
Workout Explanation
This workout consists of two parts. Part one is a circuit of 4 exercises with the total of 4 rounds and it is done for time ( but never sacrificing the proper form ), try not to rest between rounds. Part two is about 5 minutes of High Intensity Interval Training with only 2 exercises.
Part one
Set your timer as a stop watch, this circuit is done for time. If you don't have a gymboss, you can use the free stopwatch online.
1. Jumping Reptile Kicks – 10 reps ( one each side )
Notes: When jumping forward you are placing the tension on your arms, keep your abs tight and your back straight ( don't wiggle your back one the jump back ). When pulling your leg to the side use your abs to hold the leg up ( it shouldn't be wobbling around ), when you kick up squeeze your butt. This exercise is very very challenging if you are doing it in the proper for, if it feels easy check your form.
2. Side stepping elbow planks – 10 reps ( each side step is 1 rep )
Notes: When doing the stepping planks hold your abs tight. If you are a beginner, just do a regular plank with your arms straight.
3. Abs Roll Exercise – 10 reps ( each side is 1 rep )
Notes: Keep your legs in the air the whole time, when you turn to the side you are almost extending instead of just rolling back and forth. You should feel this exercise in your whole core and obliques.
4. Two grip row & medicine ball bridge – 10 reps on each leg
Notes: I used a medicine ball for extra resistance, by balancing on the medicine ball it creates a greater challenge for your glutes. Watch the video on how I place the hands before I pull up. The extended leg should be tight, and the toe pointed. Keep your body position straight in one line.
Part Two
Set your timer for 2 intervals of 10 seconds ( rest time ) and 25 seconds ( maximum effort ) for the total of 8 rounds. If you don't have gymboss you can use this free interval timer online.
You will be doing 2 exercises
Notes: Always land on the balls of your feet. Use your arms and on the jump up swing your arms back and squeeze your triceps.
2. Jump Rope High Knees ( if you don't have jump rope, you can just do high knees without it )
Notes: When doing high knees use your abs when driving each knee up.
Always write down your scores so you can keep the notes of your progress, next time you do this workout compare your scores.
My scores:
Part one – my time was 23:47 ( I really struggled, so you can easily beat me )
Part two
1. – 13, 8, 8, 8
2. – 55, 50, 50, 50
Share your scores 🙂
PS – If you are having trouble viewing the video on the site, you can watch it here on YouTube.
The Lebert Equalizer Total Body Strengthener