Diet Challenges
Here you will find a collection of the Diet Challenges that will grow over time.  Just pick one Diet Challenge for the week and focus on creating a healthy habit.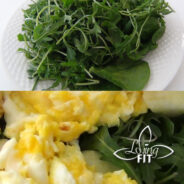 Hello My Lovie-Dovies,
I'm finally brining you another diet challenge. In previous challenges we've usually taken something out of our diet, in this challenge we're not going to take anything away, we are going to add specific foods into our daily regimen. However you are eating at the moment, eat the same but add the foods that I'm gonna share with every single day. Even if you are not eating very healthy at the moment, don't worry, leave everything how it is and just add these foods every day on top of what you're eating. What you will notice is, in a few weeks your body will begin to crave healthy foods on a regular basis, naturally and you will gradually be able to change your eating habits ( if you need to ) without the forcing effort, plus by adding these foods you will start to lean out quite a bit as well.
read more