Upper Body Workout Routines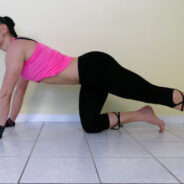 Oley Oley my Lovies!
I have a new upper body workout for you guys in Real Time :). I've posted it on my YouTube channel a little over a week ago, but still hasn't gotten around to posting it on the site. So, make sure to subscribe to my channel because I post things there at times that I don't post here on my site. My life is much busier right now than before so I'm not giving as much time to my baby Loving Fit as I used to, need to get back into my momentum again.
read more