Full Body Workouts
This page is for Full Body Workout Routines only.  You can do full body workouts when you don't have enough time in a week but you're still trying to get your Fit on

.  You should never do more then 3 full body workouts per week, and you have to take a day break in between.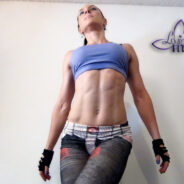 Ola my Lovies,
Happy to peek out again

, I have a new workout for you guys, but this is a second modified version of the original workout that I've created. I've created this crazy long reversed pyramid routine and it took me over an hour to complete, so I decided to modify it and not make it less insane.
read more