Embrace Your Body Workout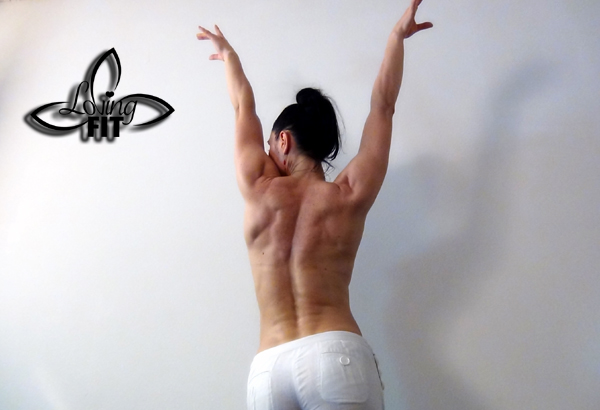 Hello my Lovies,
I'm so happy to be back with a new Full Body Workout! After 6 days off, this was the routine I did, it was actually not the easiest routine for a first day back but I really enjoyed it. The theme of the workout is " Embrace Your Body ", this is why we were a bit more artistic with the pictures as you can tell LOL.
You guys already know that I recommend taking full 5 days off minimum every 6-8 weeks, depending on the level you were training at. I take mine about every 8 weeks, your body and your mind needs time to recover, build and regroup. I took 6 days off this time cause I was doing renovations to my living room, I can't wait to show you guys how cool my living room looks now :).
Workout Explanation
In this routine I was using a sandbag ( 30 lbs ), a barbell 45 lbs ( I just got me one last week and I totally love it, a Pull-Up bar
 and my Gymboss Timer.
This routine is put together in a Semi-Pyramid Style, meaning that some exercises are in a Pyramid Style and some are not. It doesn't look that hard, but you know that my workouts are always a lot harder than they look, the good news is that it's only 2 rounds.
( Since it was my first day back after my break, I only did 2 rounds and that was enough for me, but if for you guys didn't take a break, I would like to suggest adding some weight to the first exercise and maybe doing 3 rounds instead of 2. )
Set your Gymboss Timeras a stop watch, perform the following exercises in GOOD EXERCISE FORM, without rushing and in this order:
Diagonal One Leg Jump Up & Lunge Knee Up – 12 per side ( both rounds same amount of reps )
Hip Thrusts with Barbell or other weight of choice – 15 reps ( this exercise has same amount of reps each round )
Side to Side Squat Kicks 12 reps & Twisted Jump Over Sandbag & Pulse 6 reps Combo – 4 sets Round 1 / 6 sets Round 2
Hip Thrusts with Barbell – 15 reps
1 Neutral Pull-up & 3 Dive Bombers / 6 sets Round 1 / 8 sets Round 2
Hip Thrusts – 15
Side Leaning Push-ups – 20 reps Round 1 / 30 reps Round 2
Hip Thrusts – 15 reps
Plank Kick Back & Spiderman Tuck – 20 reps ( both rounds same amount of reps )
My Time for this routine was 42 minutes 28 seconds. Don't get scared, you will probably do it much faster than me, just as long as you do it in good form.
Hugs,
Tati
LovingFit Facebook Page  –  My Personal INSTAGRAM