Build & Balance Full Body Workout with Handstands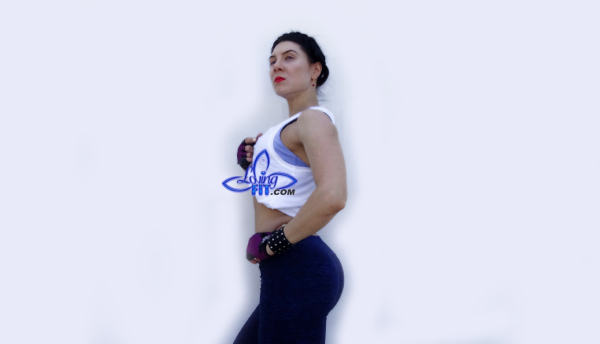 Hello my Lovies,
So, just like you guys suggested on my LovingFit Facebook Page , this workout is going to be Full Body with incorporation of handstands. This workout is definitely at a more challenging level, thats why I will not recommend beginners to do it. Beginners should start with my earlier full body workouts, and then work your way up to something like this. In order to do this workout as intended, you should be able to at least do a full 2 minute handstand agains a wall, because here I will be incorporating Hand Switch Handstands and One Arm Handstands.
For Newbies ( Beginners to Loving Fit )
If you are new to Loving Fit I recommend to check out " Creating Your Workout Plan " post. There you will be able to see how I put together my routines, and you can find something for your own fitness level. My philosophy is: Form is always more important than speed, so WATCH YOUR FORM!
Another thing that I really recommend all of my beginners to check out, is my post review called on What Is The Beta Switch. I think this plan is quite amazingly put together for someone who is just starting out and need a lot of guidance. I'm not a beginner and I found so much useful info learning from Beta Switch Program.
For Complete Beginners I really suggest to check out my review-post about The Beta Switch. This is an amazing program for complete beginners with tips and guidance not only about working out, but also nutrition and keeping your mind on track.
Workout Explanation
For this routine I was using a 40 lbs Sandbag, and a timer
. You will also need a wall for your handstand exercises.
This workout is broken down to 2 parts. First part consists of 7 exercises which are done using intervals. And 2 exercises which you will do after each interval round.
This is how the workout will go:
Part 1
Set your timer for 2 intervals, 20/1:00 ( 20 sec is rest interval, 1 minute is maximum effort interval. For the total of 8 Rounds. There are 7 exercises ( one of them is per side ).
• 2 Slide Under Side Lunges & Body Twist
• Pulse Walking Lunge with Sandbag Lift – Right Side
• Pulse Walking Lunge with Sandbag Lift – Left Side
• 2 Leaning Push-ups & Push-Back Push-up Combo
• 6 Wall Climbers & Handstand Side Step
• Low Squat to Diagonal Back-Lunge ( Stay Semi-Low the whole time )
• Staggered Dive Bombers
• Hand Switch Handstand
After you complete the first interval round of, it will be followed by 2 exercises of recovery so to speak, but not exactly.
• Back Lunge Jump Tuck – 25 reps per side
• Tapping Push-ups – 10 reps
Now you will reverse the order of the interval part, and start the second round from the bottom up. Third round again from the top to bottom. And fourth round ( if you decide to do the 4th round ) you will again start from bottom up.
You can do 3-4 rounds, it's up to you.
Part 2
At the end of each upper body workout, I always do One Arm Handstands as a finisher, using intervals.
Set your timer for 2 intervals, 5 sec / 10 sec, total of 10 rounds. For the 5 second interval, you will be standing on both hand in a Handstand. On 10 sec interval you will be balancing on one hand only ( in a handstand ), 5 round per each hand.
Enjoy Your Workout!
English Version
Russian Version
Love,
Tati
PS – Make sure you guys subscribe to my Tatiannamania YouTube Channel, I post my workouts there first, before they make it to the blog.
LovingFit Facebook Page  –  My Personal INSTAGRAM – Subscribe to My YouTube Channel – My Google Plus Page ( I'm really active on my Google Plus and I post things there that I don't post on my Facebook or other social sites ).