Upper Body Workout Routines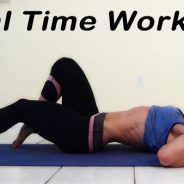 Hello my dearest Lovies,
Today I have a Real Time Workout Challenge for an Upper Body ( Bodyweight Only ). This workout challenge is only 11 minutes long, I did it this long because I've already done an upper body workout the previous day, so 11 minutes was enough for me. But, if you guys are feeling frisky you can up the time to 15 minutes or even 20 minutes.
read more