HIT – Bikini Ready Butt Workout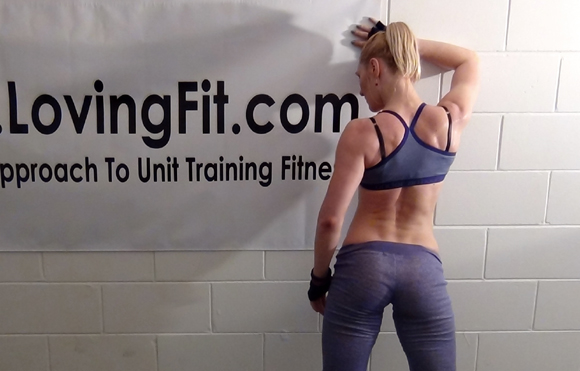 Hello friends :),
I hope you are having a wonderful week, I have a lower body routine in the style of high intensity training, and it's very fun, it will also kick your butt! This routine is a follow up to " Upper Body Bootcamp Workout ". We've been doing a lot of circuits lately, so it's time to do a little more interval training. I used a bit of longer intervals because we all know how important it is to switch up your training all the time, you don't want your body to get use to doing the same thing over and over.
If you already saw the video you know what I would like to talk about – Law Of Attraction ( I have a very detailed post about this  called " Karma " that I wrote when I first started this blog, so make sure you check it out ).
I also wanted to tell you a little story.  About a month or so ago, ( not sure of exact time ), I wanted to get a banner that would say Loving Fit on it, just a fun idea me and my husband had.  I started looking around at different companies, but there were so many and I wasn't sure exactly what I wanted or how to go about it, I just wanted a simple banner. Few weeks later, I got contacted by a company called Build A Sign ( mind you this is all out of the blue ), and they asked me if I would like to have them make me a Loving Fit banner.
OK, stop for a second and picture my face when I got that email ( are picturing? ), yep I was that exited!  Not only that but they also offered me some bumper stickers for my car, and that topped my cake ( invisible cake of course LOL ).
The moral of a story is – if you ask, you will always receive, if you can see it in your mind you will soon have in your hands. Remember, nothing is a coincidence! Everything and everyone in your life are there because you thoughts brought them there. This applies to everything in life, if you want to loose weight then picture your self thin, if you want to have money picture your self rich etc. There are only few things to remember when using the law of attraction – 1) Always stay positive, no matter what your current reality is showing you. 2) Stay focused on your goals, don't look around at obstacles, only think about the outcome. Apply this to your training and apply this to your life!
Now let's get this workout done!  And if you want to see results, first seem then in your mind!

Workout Explanation
Don't forget to always do your warm-up and always remember – " Proper Exercise Form is always more importuned than speed ".
For this routine I was using my timer
, my 40 lbs VersaFit bag from Power Systems, a medicine ball ( size doesn't matter, if you don't have a medicine ball, in the workout recap part of the video I show you a variation without it ) and a brick ( you can use a chair ).
Set your timer
for 2 intervals. First interval is 15 seconds ( your rest ), second interval is 1 m and 15 seconds ( your maximum effort ), for the total of 21 rounds. You will go through the following sequence 3 rounds total.
Weighted Bulgarian Double Pulse Squat – Right Leg
Half One Leg Squat – Right Leg
Weighted Bulgarian Squat – Left Leg
Half One Leg Squat – Left Leg
Half Lift Squat ( make sure to watch the Workout Recap Video for the proper form explanation )
Jump Lunges & Knee up Twist
Shuffle Bridge on a Medicine Ball
Please make sure you watch the workout explanation part of the video, I am now doing explanations in English and Russian :).
My scores
1) 15, 15, 16
2) 13, 14, 12
3) 16, 15, 15
4) 14, 12, 12
5) 19, 18, 17
6) 17, 16, 15
7) 24, 23, 23
Today was also my abs day, so I completed 15 minutes of cardio mixed with abs exercises ( 10-15 minutes of cardio is good for the coming up Bikini season 😉 ). Make sure you are not doing more then 15 minutes of cardio because then you are going to loose muscle, and you don't want that. Stick to 10-15 minutes.
Nutrition Tip
– If you don't have whey isolate protein shake to take after your workout, don't worry you can have a post workout meal. Just make sure that this meal contains lean protein and complex carbs but little or no fat ( such as tuna with veggies ). Because fat slows down absorption of the nutrients, and if you are going to consume any fat then it should be about 1.5 hours after your workout. But the main post workout meal should be consumed within 30 minutes of finishing your training, not later and preferable sooner.
Have fun guys !!!
PS – I wanted to say thank you to Nicolle from Build A Sign for making my Loving Fit banner and my Loving Fit bumper stickers, I love them very much! Thank you, thank you, thank you!!!