Rose Among Thorns Workout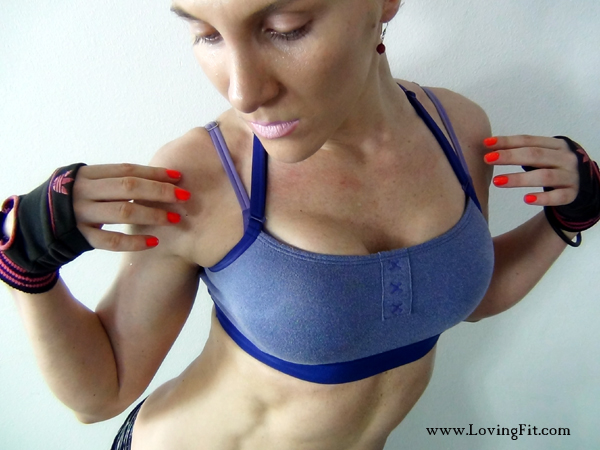 Hello my darlings,
I am back with another upper body routine! We filmed the workout yesterday, and the day before was when I trained on the trapeze, so today I am so sore that my fingertips are in pain. We filmed outside but went inside to do the explanations because it started to rain like crazy. I so love working out in the nature, the only down part is how uneven the ground was in the place where we filmed and I felt paranoid about my form the whole time.
As I mentioned in the video this workout is a strength training and cardio at the same time, so after the workout you can do an abs routine instead of the usually light cardio. Let me explain, every time we workout, our body is using a certain energy pathway, intervals under a minute use anaerobic pathway, intervals a minute and over are using aerobic pathway and that is the pathway that strengthens your cardiovascular system. I actually have a post about this: " Aerobic Vs Anaerobic Exercise ", this is something you guys should all know and understand, make sure you check it out.
Make sure you do a good warm-up before you begin to exercise, as well as practice the proper form, because good exercise form = results!
Rose Among Thorns Workout Video
Workout Explanation
In this workout I was using my timer
, a 12 lbs medicine ball and half of my my Pink Lebert . If you don't have a Lebert you can use 2 chairs and a broomstick, just like I'm showed you in the picture in this post " Love Your Body Workout ". Or you can build your own dip bar and make your own medicine ball, just check out this post – " Fitness Equipment On A Budget ".
This workout was broken down into 2 parts. First part was interval training, second part was done for good form not time and it only has 2 exercises. After each part you will take 1 minute break and keep going until you've completed 3 rounds total of both parts.
Make sure to watch the Workout Recap part of the video where I go over the proper form for each exercise as well as variations for beginners.
Part 1
Set your timer for 6 rounds of 15 seconds ( rest interval ) and 1 minute ( max effort interval ). There is 6 exercises:
Oblique Staggered Push-up
Slow Pull Down
Scoop It Up
Push Back Push-up
Controlled Fold ups
Wall Mountain Climbers
Part 2
Diamond Push-ups ( slow down the movement on the way up ) – 6 reps
Crab – 50 reps
My scores :
Part 1
1) – 17, 15, 14
2) 13, 12, 10
3) 17, 17, 16
4) 16, 16, 15
5) 13, 12, 12
6) 52, 47, 43
Part 2 I did for form and did not count my time.
Since it's the end of the week I recommend you guys do a total body stretching, I am definitely doing that today.
Have a wonderful Weekend everyone!
PS – a lot of you guys have been sharing your recipes with me and I thought it would be a great idea if I make your recipes and them post them on the blog :).  Also check out my weekly article on EvilCyber.com " Breaking Down The Myths In Fitness "
Tati