The Gun Show Workout – Are You Ready?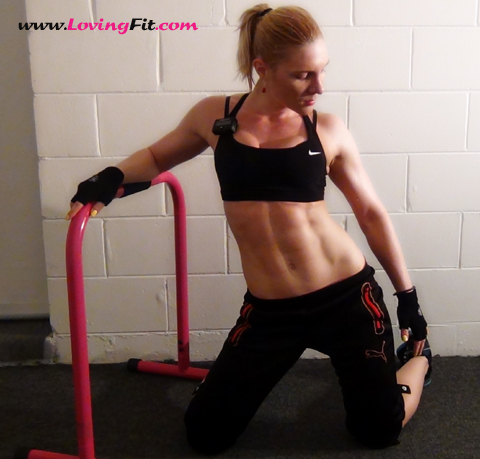 Hi Everyone,
Today I have another great workout for you. This routine is focused on the upper body and core and it's a follow up to " 399 Reps Workout ", the name literally says it all! This workout started out nice and sweet and then it turned into a monster, the last 3 rounds I was really struggling.
For this routine I was using 20 lbs dumbbells ( 10 lbs each ), my GymbossMax timer
, a Pull-Up bar
 ( you can get a pull-up bar for about 20 dollars on ebay ), and half of my pink toy Lebert ( if you don't have Lebert you can use a chair for dips ).
Always warm-up before exercising.
For workout recap and beginners variations fast forward the video.
Workout Explanation
This is a time challenge, so set your timer
as a stopwatch. There are 6 exercises, but one of them you have to do on each side so it turns out 7 total. Each exercise is to be done for 6 reps, and there is 10 rounds total.
Remember if you are loosing your form, stop and take a rest. This workout is timed for speed, but not to sacrifice the proper exercise form.
So, let's repeat – complete the following for the total of 10 rounds :).
Half Way Dive Bomber Push -up – 6 reps
Wind Mill Side Plank Exercise – 6 reps on each side
Wide Grip Pull-ups ( assisted on the way up, and regular on the way down ) – 6 reps
Mountain Climber Push-off Combo – ( 3 mountain climbers, kick back, drop down all the way, push-off – all count as one rep ) – 6 reps
Dips – 6 reps
Shoulder Raises – 6 reps
My time for this workout was… Drum Roll… – 37 minutes and 44 seconds.
PS – I wanted to thank Angela, one of my readers who came up with the name for this and the following routine as well :).