Stellar Shape Workout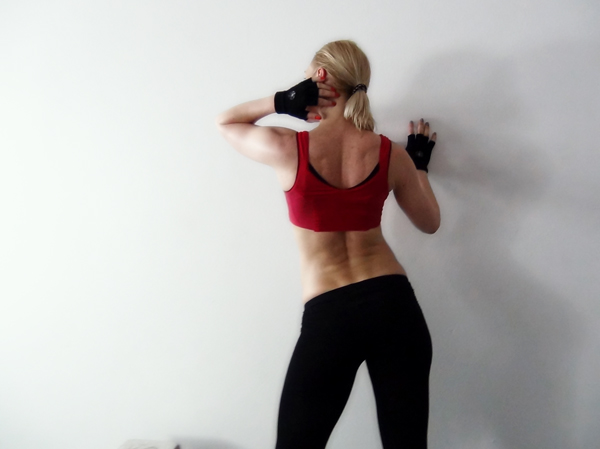 Hi everyone,
I'm back with another lower body workout!!!  Last week I switched up my training a bit and I only did bodyweight workouts, so this week I was ready to get back to some heavier lifting. In order for us NOT to hit training plateau we absolutely need to switch the style of our workouts periodically. That will throw your body out for a loop and will help you keep progressing. ( Some food for training thought 😉 )
Yesterday I also posted a nutrition challenge that I stared following, it's very simple but it's powerful – trust me :).  You can follow it along with me if you like it's up to you.
Now watch the Workout Video and don't forget to watch the " Workout Recap " part of the video, where I go over all of the exercises in the proper form with variations for beginners.
Workout Explanation
Before you begin your workout you absolutely have to warm-up your body!  I have a great warm-up routine you can follow along with me. Then, right after your warm-up practice all of the exercises in the mirror with proper form.
In this routine I was using my 40 lbs Versa Fit bag from Power Systems, my Gymboss Max timer
and a 12 lbs medicine ball. If you don't have this equipment you can easily make it your self, take a look at this post " Fitness Equipment On The Budget " where I posted lot's of videos on you can make all of this equipment you self for under 20 dollars. )
This workout consists of 3 parts, and you will repeat all 3 parts for the total of 2 rounds.
Part one – Time Challenge with Proper Form
Set your timer
as a stopwatch, there are 3 exercises and only 1 round.
Weighted Squats – 30 reps ( slow down the movement on the way up )
Jump Lunges with a Medicine Ball – 30 reps
Weighed Jumps Squats – 20 reps
( Beginners will do these exercises without the weights )
Part 2 – Interval Training
Set your timer
for 2 intervals, 15 seconds ( your break interval ( don't you even think of shortening the break interval, because there is 8 rounds of hight intensity exercise and you need more time to recover so you don't drop your reps ) ). The second interval is 30 seconds ( your maximum effort interval ), for the total of 8 rounds. So it' will look like this 15/30=8
There is only one exercise
Kick Back Twist Jump Squat ( use your arms and squeeze your triceps on the kick back )
Part 3 – Proper Form Only
3 Rounds of the following combo
Superman Lifts – 10 reps, Roll Over – Bridge LIfts – 10 reps
Beginners – You will complete 8 rounds of 10-15 jump squats as how I am showing you in the Workout Recap part of the video, and you will complete all the rounds in proper form at your own pace ( no interval training yet 😉 )
Now, repeat all 3 parts one more time! After my workout I also did 3 sets of 20 toe raises with my bag and I skipped on the cardio today, but if you want you can do 10-15 minutes. Don't forget to stretch!
My Scores
Part 1
Round 1 – 5 min 31 sec Round 2 – 5 min 52 sec
Part 2
Round one – 19, 17, 17, 15, 14, 15 15
Round two – 20, 16, 14, 14, 14 17, 19, 17 ( looks like I pushed better the second time )