Rock Solid Body Training Workout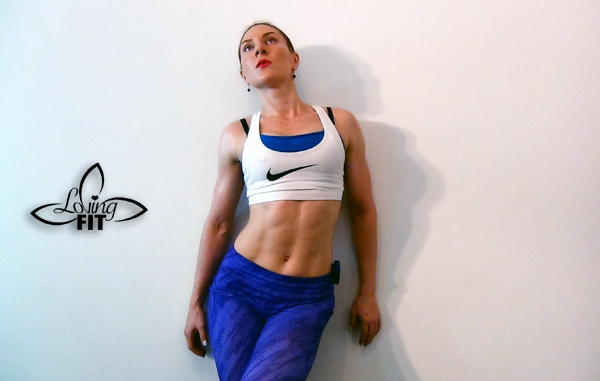 Hello my sweeties,
I have another lower body workout for you this week. Usually it's our time to record a Real Time Cardio routine, but our schedule is a bit different for the next 2 weeks ( Miguel is going out of town ) so we had to film Lower Body ( cause it was my lower body training day ). This routine is about 30 minutes long, it's divided into two parts. In first part there are a lot of leg work, in the second part we'll work mainly the glutes.
For the Newbies

If you are new to Loving Fit I recommend to check out " Creating Your Workout Plan " post. There you will be able to see how I put together my routines, and you can find something for your own fitness level. My philosophy is: Form is always more important than speed, so WATCH YOUR FORM!

Things to remember before, during and after your workout
Workout Explanation:
In this routine I was using my Gymboss Timer, sandbag ( 30 lbs ) and a 10 lbs dumbbell.  You can use more or less weight, depending on your fitness level.  I use a lot less weight than I used to because I'm trying not to get bigger legs, but if you want to build bigger legs than you can use bigger weight.
Part One
Set your Gymboss Timer as a stopwatch, there is 2 exercises in this routine, 3 rounds total. This part is done for proper form and time:
Bag Clean Back Lunge & Pulse Right Leg – 16 reps
Bag Clean Back Lunge & Pulse Left Leg – 16 reps
Hammer Jump Lunges – 16 reps
Part 2
Set yourGymboss Timerfor 2 intervals, first interval is 1 minute long, second interval 40 second long, for the total of 7 rounds. ( so there will be 7 rounds of each exercise )There is no break in between so try not to take breaks at all and just keep going. These exercises set up in a way that you shouldn't need a break:
Clean & Booty Squeeze ( make sure you watch Workout Recap for proper form explanation )
Bag Swing
My time:
Part one – 13 minutes 42 seconds
Part 2 – I was doing around 20-23 bag cleans and 20 bag swings
Have a wonderful weekend my loves!
LovingFit Facebook Page  –  My Personal INSTAGRAM