Rock N Roll Abs Workout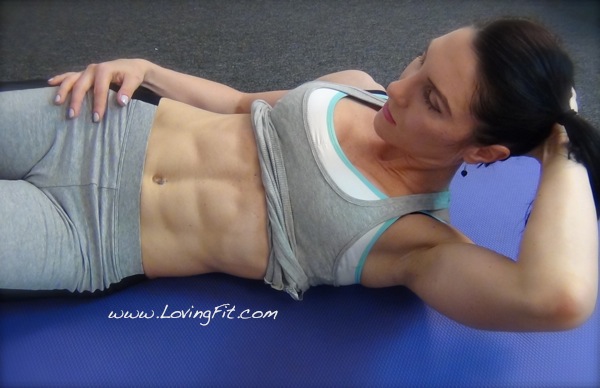 Hello my Lovies,
Today I have an amazing Abs Routine, It's been a while since I've made one and I was inspired. This routine is going to make it my " Favorites " list, because I almost never get sore in my abs, but this workout did it and that's what I loved about it. This routine will work your core and every part of your abs top to bottom. I would say it's more of an Intermediate level, but I will give you an option of how you can make it more advanced, in the video I also went over the beginners variations. It's one of the longer " Abs Workouts ", 18 minutes not counting the breaks ( for me it's longer cause I usually only spend about 5-10 minutes tops on my abs per workout. )
For all the Newbies to Loving Fit
If you are new to Loving Fit I recommend to check out " Creating Your Workout Plan " post. There you will be able to see how I put together my routines, and you can find something for your own fitness level. My philosophy is: Form is always more important than speed, so WATCH YOUR FORM!
Things to remember before, during and after your workout
Workout Explanation
In the video you can do 1 full round with me, but I personally always prefer to write down workouts and do them by my self, not follow any video. All you need in this workout is a mat, a sandbag ( I used 40 lbs ) and an Gymboss Timer.
There are 3 rounds in this routine. You will go through the set of 7 exercises ( one of which are done per each side ) back to back without a break. Then take a break for recovery between rounds.
Complete beginners use 30 sec interval per exercise ( also use the beginner variations I showed in the video ). Rest 2-3 minutes between rounds.
Intermediate Level use 45 sec interval per exercise. Rest 2 minutes in between rounds.
Advanced Level use 1 full minute interval per exercise. Rest 1 minute between rounds.
If this is the only workout you are doing, make sure to finish off with something metabolic like running, jump rope or other bodyweight cardio.
Set your Gymboss Timer for 8 rounds of 45 sec ( that's what I used ) and complete the following sequence in this order.
Side To Side Oblique Knee Drops
Rolling Kicks
Slow Side To Side Heel Reach
Sandbag Sitting Pick-up Twist
Sandbag Pick-up Twist and Curl Combo
Side Bicycle ( Right Side )
Side Bicycle ( Left Side )
Half Burpee & Kick
( PROPER FORM SHOULD BE WATCHED IN THE VIDEO BEFORE PROCEEDING, THINGS CAN LOOK DECEIVING IN THE VIDEO that's why I always explain how you should do each exercise ).
Have fun my loves! Let me know how you like this routine, I would love your feedback.
Hugs,
Tati
LovingFit Facebook Page  –  My Personal INSTAGRAM