Real Time Cardio #2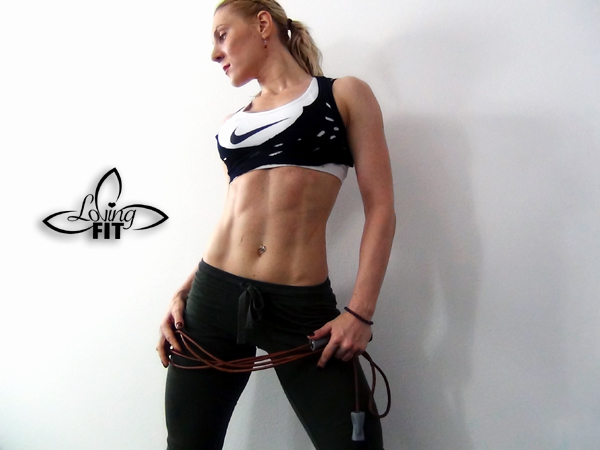 Hello my Sweeties,
Today I have one more Real Time Cardio for you, next workout that we'll record is going to be the Lower Body Routine ( edited, cause these workouts are twice as long ). As I told you in the video, these cardio sessions must be added if your goals include fat loss, cardio sessions are also important for the full training effect. If you have a lot of weight to lose, I recommend you doing at least 30 minutes of cardio after your usually workouts, if you don't have much weight to lose and just want to keep lean, 10-15 minute sessions are perfect. I did this workout in a fasted state, I've been really enjoying doing my workouts this way, cause I feel much more energetic.
For everyone who is new to Loving Fit I recommend to check out " Creating Your Workout Plan " post. There you will be able to see how I put together my routines, and you can find something for your own fitness level. My philosophy is: Form is always more important than speed, so WATCH YOUR FORM!
Things to remember before, during and after your workout
Warm-Up ( since you're suppose to add this routine after your strength training routine, than you should already be warmed up )
Workout Explanation
All I was using in this workout was a jump rope ( but I also gave you a variation in the video in case you don't have a jump rope ), and a timer
, if you don't have a timer that is perfectly fine cause you can follow my timer in the video.
I set my timer for 2 intervals, 1st interval was 1:45, second interval was 1:00, for the total of 6 rounds. There is 4 exercises and 3 rounds total. This is how the sequence will flow:
Two Way Jump Rope ( 10 and 10 ) – 1:45
Jump Squat & Squat – 1:00
Side to Side under – 1:45
Twist & Push-up – 1:00
There is no breaks in between, but this routine is a very good pace and you shouldn't even need breaks.
Enjoy!
Love,
Tati