Leg Slimming Bodyweight Intensity Workout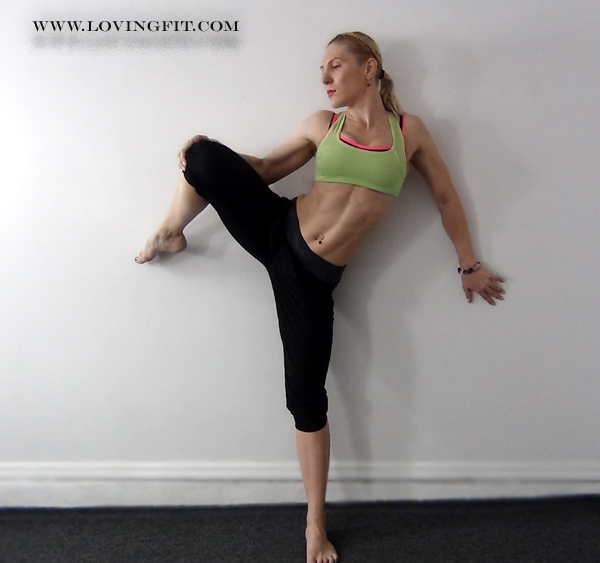 Hello Loves,
Just as promised I got an amazing Bodyweight Only Leg Slimming Workout. Just a little warning, this is gonna look easy :), but I would love to see your face once you're done with it. This routine is only 24 minutes long, but if you count the little break you will get between each part, then it's gonna be a little longer.
From time to time I start noticing that my legs are starting to look just a bit bulkier than I'd like for them to be, so that's when I cut down on weighted workouts to about once every two weeks, and all I do is bodyweight ( only for my lower body that is ). Body weight routines can get your legs in shape quite fast and keep them slim but still with muscle on them.
For everyone who is new to Loving Fit I recommend to check out " Creating Your Workout Plan " post. There you will be able to see how I put together my routines, and you can find something for your own fitness level. My philosophy is: Form is always more important than speed, so WATCH YOUR FORM!
Things to remember before, during and after your workout
Workout Explanation
All I was using in this workout is my Gymboss timer
. There are 4 parts in this workout. Each part is 6 minutes long. There will be no break in each part but you can take a break after.
There is 2 exercises per part, first exercise needs to be done to your Max Effort, second exercise is only for recovery. The trick is to keep moving the full 6 minutes, try not to rest at all.
Part 1
Set your timer
for two intervals. First interval is 35 seconds ( Mas Effort ), second interval is 25 seconds ( Recovery Exercise ), for the total of 6 rounds. You will go through both of these two exercises 6 times.
Dynamic Low Jack
Alternating Back Lunge
Part 2
Your timer
timer stays the same. Again, same concept, 2 exercises, 6 rounds ( back and fourth ).
Diagonal Variation Jump Lunge
Semi-Low Side To Side
Part 3
Your timer
timer stays the same. Again there is 2 exercises back and fourth. First exercise Max Effort, second exercise Recovery Effort.
Skater Side Jump Lunge Jump
Alternating Side Lunges
Part 4
Your timer
stays the same, and you already know the drill :).
Diagonal Squat Jump
Bodyweight Squat
If you are a complete beginner, make sure to check out variations that I've showed in the Workout Recap part of the video. Also beginners can decrease their max intervals, and increase their rest. So for beginners the timer will look like this: 20-25 seconds of Max Effort, 35-40 sec of Recovery Effort.
Have Fun Training!!!
Hugsie Hugs,
Tati
My This Week's Article For EvilCyber.com – "Bodyweight Fat Loss Workout".