Holiday Burn-Off Workout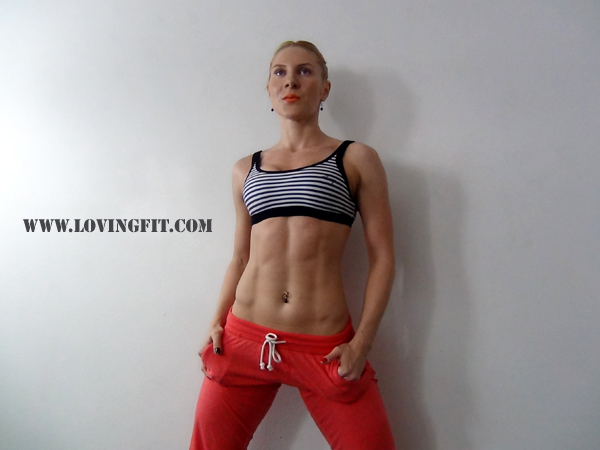 Hello My Lovies!
I bet you did a lot of very very naughty things on Thanksgiving day!  That's why today I really hope you are ready for an evil Full Body Strength Cardio HIIT style to burn off that Thanksgiving dinner.  Since many of you guys are out of town for the holidays I thought it would be great to do a workout without any equipment bodyweight only, and all you will need is your Gymboss timer
.
If you are new to Loving Fit make sure to check out "Creating Your Workout Plan" post, there I explain how I put together my workouts and you can find something to fit your fitness level.
( For better quality video change the settings to HD ) 
Workout Explanation
Don't be ever be skipping on warm-up and stretching because they are just as important as the workout it self.  Also, don't rush through the routine, always watch your form!
This is a HIIT style training and there is 5 exercises total. You will do 1 exercise at a time per 6 rounds.
Part 1
Set your timer
for 2 intervals 12 sec ( rest interval ) and 40 sec ( max effort ), for the total of 6 rounds. If you wish you can set your timer for 10 sec rest but I really felt like I needed the 2 extra seconds. There is 1 exercise combo and you will repeat it all 6 rounds.
Wide Squat Vertical Leap & Low Jack
Part 2
Timer
stays the same.  There is only 1 exercise, 6 rounds.
Part 3
Timer
stays the same. There is also just one exercise 6 rounds total.
Twist Jump & 2 Side Steps
Part 4
Timer
stays the same. One exercise 6 rounds.
Diagonal Leap Push-ups ( palms inward )
Part 5
Timer
stays the same. One exercise 6 rounds.
Half Surfee ( palm straight )
My Scores
1) – 8, 7, 6, 6.5, 5, 6
2) – 10, 8, 7, 8, 8, 7
3) – 7.5, 7, 8, 7, 7, 6
4) – 11, 9, 9, 8, 7, 6
5) – 11, 10, 9, 9, 8, 8
Have fun training my sweets and have a wonderful weekend!
Tati
PS – My Friday article at EvilCyber.com " Holiday Season Damage Control " and Loving Fit now has it's own Community Facebook Page :).