Equinox Inspired Workout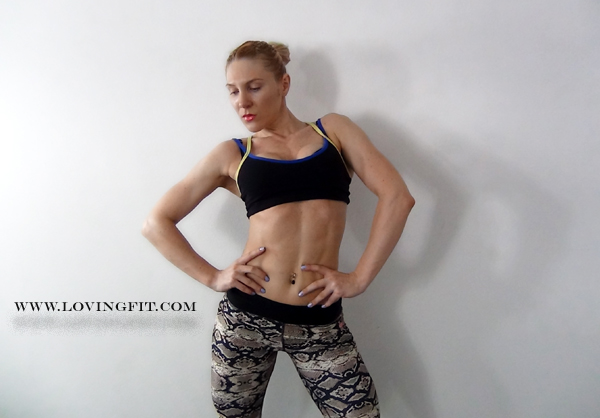 Hello My Lovies!
Happy New Year! May the year 2013 bring you even more Love, Positivity, Happiness and Fitness into your life!!! This has been an amazing year for me, I've met all of you guys and this makes me so happy. Thank you so much for sharing this beautiful year with me, for doing my workouts, for supporting me every day and for all of your kindness and positivity. I am a truly lucky person to know all of you – thank you my Lovies!!!
Today I have a very interesting Upper Body Workout for you, it was inspired by the Equinox Animal Flow Video, I will attach the video below. I absolutely love all the videos by the Equinox Channel because they are so creative, beautiful and the production is amazing.
For everyone who is new to Loving Fit I recommend to check out " Creating Your Workout Plan " post. There you will be able to see how I put together my routines, and you can find something for your own fitness level. My philosophy is: Form is always more important than speed, so WATCH YOUR FORM!
Things to remember before, during and after your workout
Workout Explanations
All I was using in this workout is my Gymboss timer
and a Pull-Up bar
. This routine is broken down into 2 parts, each part has 2 exercises. First exercise is done for reps and proper form ( not time ) and second exercise is done with an interval of 45 seconds.
Part 1
Complete 5 rounds of the following:
Equinox inspired Shoulder Press – 6 reps per side
Equinox Jump – 45 sec
Part 2
Complete 5 rounds of the following:
Squat To Pull-Up Knee Up – 10 reps
Handstand Knee Pull – 45 seconds
Make sure you watch the Workout Recap Part of the video for the proper explanation of each exercise.
My Scores:
Part 1 Second Exercise – 12, 11, 8, 9, 11
Part 2 Second Exercise – 15, 14, 14, 14, 16
Have fun training my sweeties and Have A WONDERFUL NEW YEAR CELEBRATION!
Love,
Tati
PS – My this weeks' article for EvilCyber.com – " Fitness Tips For Pregnancy "
Here is the Video that I was talking about, it's called " Animal Flow "