Beware Of Burning Monster Workout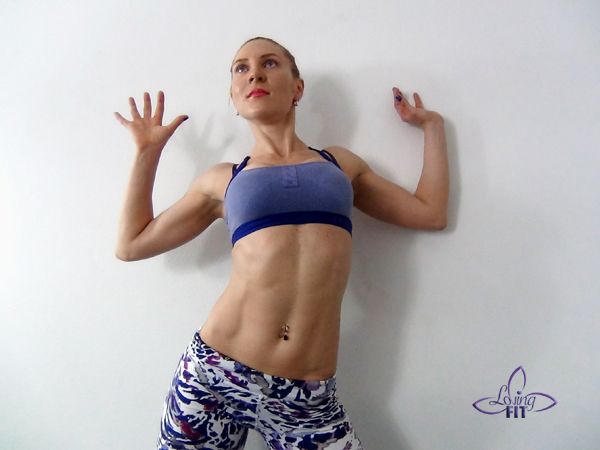 Hello My Sweet Lovies :),
Welcome to the first Lower Body Workout on Loving Fit in 2013! The name should say it all! Because this workout was a complete Monster and I am placing it in top 10 hardest workouts. This routine took me about 36 minutes to complete, but you can be faster than me.
As you know I always try all the workouts before we film them to make sure everything flows just right and nobody gets injured. So, I've tried this routine on Tuesday and today I was still sore from it, that's why it's a real monster. This is mostly bodyweight, I was using a sandbag in the second part, but I will give you a variation exercise, where you won't need a sandbag in the workout recap part of the video.
For everyone who is new to Loving Fit I recommend to check out " Creating Your Workout Plan " post. There you will be able to see how I put together my routines, and you can find something for your own fitness level. My philosophy is: Form is always more important than speed, so WATCH YOUR FORM!
Things to remember before, during and after your workout
Workout Explanation
All you need for this workout is your timer
, you can also use a sandbag, or a dumbbell or a kettlebell, or just your own bodyweight. This routine is in 3 parts. First 2 parts are interval training, last and 3rd part is done for proper form and time. I counted the last part as a strength cardio so you can skip on your regular cardio if you like ( I did, but that is also because I could barely feel my legs when I was done. )
Part 1
Set your timer
for 2 intervals of 35 seconds each, for the total of 14 rounds. Or you can set your timer for 1 interval of 35 seconds and 28 round it's up to you.
There is 2 exercises in part one, you will switch sides after completing both exercises on one side, so you will end up doing 7 rounds per side. First exercise is max effort, second exercise is recovery. This is how the workout out will go:
Two Way Jump-Up – Right Leg
Twisted Side Lunge – Right Leg
Two Way Jump-Up – Left Leg
Twisted Side Lunge – Left Leg
Part 2
Set your timer
for 2 intervals of 35 seconds each, for the total of 7 rounds. Or one interval of 35 seconds and 14 rounds.
There is two exercises and absolutely no break, so push at your max. I had 35 lbs in my sandbag. ( you can also use a kettlebell, dumbbell, or your own bodyweight, or you can also substitute the second exercise for a Bridge ).
You will go through both exercises for the total of 7 rounds.
Three Pulses Squat & Two Side Bends
Sandbag Swing
Part 3
Set your timer
as a stopwatch. Complete 50 reps of the following combo:
Three Jump Lunges & Kick Up & Side Lunge Kick-Up ( that whole thing counts as one rep )
My Time:
I completed the last part in 10 minutes and 11 seconds.
Have Fun Training My Lovies!
Hugs,
Tati
PS – My new article on EvilCyber.com – "The Blood Type Diet – A Personal Experience"