Amour For Tight Booty Workout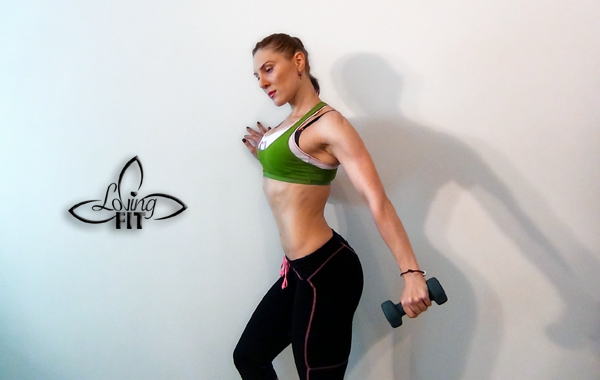 Hello my Lovies,
I finally have a new Lower Body Workout for you guys, this workout took me a little over 30 minutes to complete. But any of you guys can be faster than me, but as long as you are faster with good form. For those who is still not familiar in which order upload my routines, I wanted to remind you: From now on I will always record 1 week – Lower Body Workout, following week – Upper Body Workout, week after that – Real Time Cardio, and the following week after that either Real Time Cardio or Real Time Abs 🙂 – how is that?
I'm doing it this way so I can make everyone of you guys happy, because some of you only prefer real time routines, others not so much and they prefer the edited routines ( I personally prefer edited routines because I like to workout on my own and not with a video, keeps me focused better ), but to each their own.
If you are new to Loving Fit I recommend to check out " Creating Your Workout Plan " post. There you will be able to see how I put together my routines, and you can find something for your own fitness level. My philosophy is: Form is always more important than speed, so WATCH YOUR FORM!
Things to remember before, during and after your workout
Workout Explanation
In this routine I was using my Sandbag ( 35 lbs ), 5 lbs dumbbell ( I use a light weight because I don't want to get bigger legs, but if bigger legs is your goal use a heavier weight dumbbell 10-15 lbs ) and of course I used my Gymboss Timer.
This routine is divided in 2 parts. Both parts are done for Proper Form and Time.
Part 1
Set your Gymboss Timeras a stopwatch, complete 3 rounds of the following:
Pass Under Jump Lunges – 20 reps
Tricep Bodyweight Jump Lunges – 20 reps
Weighted Slow Bridge – 20 reps
Sandbag Swing – 40 reps
Part 2
Set your Gymboss Timer as a stopwatch, complete 10 rounds of the following ( yes 10 rounds 🙂 your eyes did not deceive you )
Pick-up and Shoulder Sandbag Squat – 12 reps
Low Jacks – 16 reps
After strength training routines don't be skipping your cardio, at least 15 minutes of light to moderate cardio is needed. You can either do regular skipping, light jog or you can use one of my Real Time Cardio Routines, take your pick.
My time:
Part one 15 min and 9 sec
Part two – 16 min and 54 sec
If you're gonna be a hopper and complete this workout faster than me, make sure you're hopping with good form!
Have a wonderful weekend my darlings!
Hugs,
Tati
LovingFit Facebook Page  –  My Personal INSTAGRAM