All Over Body Training BOMB Workout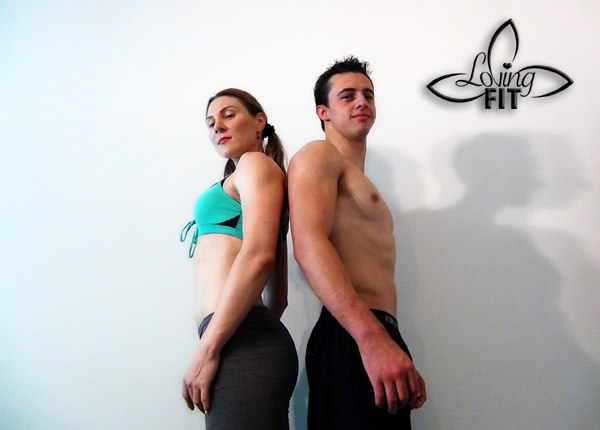 Hello my Lovie-Dovies!!!
I'm super duper exited about today's workout! Because today we have a guest who bravely performed one of my workouts. His name is Renato, he works with my husband Miguel at Cirque Du Soleil show La Nouba, he also does flying trapeze. I wanted to really challenge him so I made up a really intense Full Body Workout, plus it's been a while since I've done a full body workout video. I was coaching Renato throughout the video and I really enjoyed this kind of format. I definitely have to say he did a great job especially for it being his first Loving Fit workout and his first time filming a workout video.
He had a much harder time with the lower body part of the workout, because most of the trapeze people rarely work on their lower body, because for flying they need only upper body and core strength. He did much better with the upper body parts, but he still struggled quite a bit.
There are bloopers at the end of the video after workout recap in Russian.
For All The Newbies To Loving Fit
If you are new to Loving Fit I recommend to check out " Creating Your Workout Plan " post. There you will be able to see how I put together my routines, and you can find something for your own fitness level. My philosophy is: Form is always more important than speed, so WATCH YOUR FORM!
Things to remember before, during and after your workout
Workout Explanation
In this routine we were using Gymboss Timer, a pair of dumbbells ( 10 lbs each ), a Pull-Up bar

and a sandbag ( 35 lbs ). This workout is broken down into 3 parts, first part is interval training and it was 6 minutes long. Second part was done for time ( time challenge, so it's up to you how long this workout is going to be ). Third part is was 7 minutes long and you have to do as many rounds as you can within 7 minutes.
Part 1 – Interval Training
Set your Gymboss Timer for 2 intervals, 15 sec ( rest interval ), 45 sec ( max effort ), for the total of 6 rounds. There are 2 exercises and you will go through both of them 3 times. At the end of the interval training you will do one more exercise.
a
Weighted Squat & Knee Up
Jump Squat & Pulse
b
Part 2 – Time Challenge
a
Set your Gymboss Timer as a stopwatch, complete 3 rounds of the following:
10 Chin-Ups ( try to do them un assisted if you can )
Spiderman Presses – 15 per side ( 30 total )
Crab Jump Kicks – 30 reps
b
After you complete all 3 rounds of the exercises above, you will do 30 more reps of reptile plank.
Part 3 – As many rounds as you can within 7 minute interval
Set your Gymboss Timer for 1 interval of 7 minutes. There is only 2 exercises and you will do them back and forth within 7 minute intervals.
Stretch Out Dumbbell Push-ups – 10 Reps
Weighted Jump Squat – 10 reps
Renato's Scores:
Part 1 ( Renato did not stop to rest at all )
Weighted Squat & Knee-Up – 23, 24, 22
Jump Squat & Pulse – 25, 25, 25
Part 2
Renato finished 1st round under 3 minutes, I got to say I was very impressed. He got burned out and had to take a little rest. It took him 13 minutes and 23 seconds to complete all 3 rounds.
I also did this part of the workout yesterday, it took me 16 minutes and 27 seconds to complete.
Part 3
Renato was able to do 7 rounds and 3 jump squats.
I also did this part yesterday and I did full 7 rounds.
Have fun Training my Lovies and have a beautiful weekend!
Love,
Tati
PS – You can check out Renato's trapeze videos on his youtube channel. He also has a Facebook ( regular account ) and INSTAGRAM ( if you want to meet him ).
LovingFit Facebook Page  –  My Personal INSTAGRAM