Abs + Slimmer Legs & Tighter Booty Workout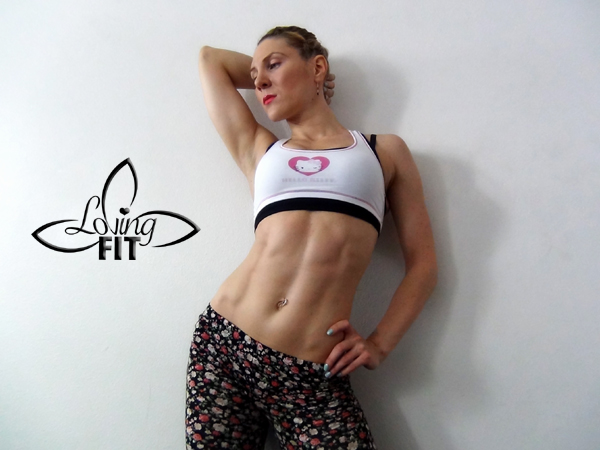 Hello my Lovies,
Many of you have asked me what have I been doing to make my legs smaller, and yes I have been working towards that goal – to make my legs smaller. Today's workout I made specifically so you can see what kind of workouts I've been doing lately. In today's routine I focused on Abs, but I've added 1 exercise for the legs and 1 exercise for the booty ( there were a lot of rounds so these 2 exercises were enough ).
All of the routines that I've been doing for my legs have been bodyweight only, I've completely stopped using weight on my legs, but I still use weight for the Booty exercises ( cause I don't want my butt to shrink, just my legs ). Now I do 1 full lower body workout per week ( bodyweight but very challenging ) for the legs, but on other days where I would do just upper body or just abs I add 1-2 exercises ( Strength cardio style ) for the legs ( that way you don't overwork your legs ). You can pretty much get your legs in shape without increasing the size by just doing strength cardio bodyweight exercises.
The next workout that I will upload will be the complete intense lower body workout, you can add weight if your goal is NOT to make your legs smaller, but if your goal is like mine to make the legs smaller than you can just do it as I show in the video.
YOU CAN ADD THE FOLLOWING ROUTINE AS AN ADDITIONAL ABS/CARDIO TO ANY OF YOUR OTHER ROUTINES.
For everyone who is new to Loving Fit I recommend to check out " Creating Your Workout Plan " post. There you will be able to see how I put together my routines, and you can find something for your own fitness level. My philosophy is: Form is always more important than speed, so WATCH YOUR FORM!
Things to remember before, during and after your workout
Workout Explanation
This routine is 28 minutes long. All I was using in this routine is my timer
and My Pink Lebert , you can use a dip station if you have one, or a Pull-Up bar
, or just a corner in your house – get creative!
Set your timer
for two intervals of 45 and 45 seconds for the total of 18 rounds. Or you can set your timer
for 1 interval of 45 seconds for the total of 36 rounds ( it's up to you ). There are no breaks between the exercises but I designed the workout specifically so you're able to push to the max with each interval without stopping.
You will go through 3 rounds of the following sequence:
Split-Out Side-Ups
Bodyweight Jump Lunge & Pulse
Hanging Knee Kicks
Bag Swing
Plank Cross Knee Tucks
Bodyweight Jump Lunge & Pulse
Triple Bicycle
Bag Swing
Laying Knee-Ups
Bodyweight Jump Lunge & Pulse
Elbow Plank Side Steps
Bag Swing
As you can see after each exercise for the Abs I've added a Jump Lunge and then a Bag Swings, so you're still getting good work for your legs and butt without overtraining them too much.
I edited the video so you will see one full round, so for some of you who don't have the timer, you can follow me along.
Have fun my training my sweeties!
Love,
Tati
PS – I wasn't sure which category to place this routine, so I added it to Just Abs Category ( since there are lot's of abs in this routine )