See Your Muscles Work Workout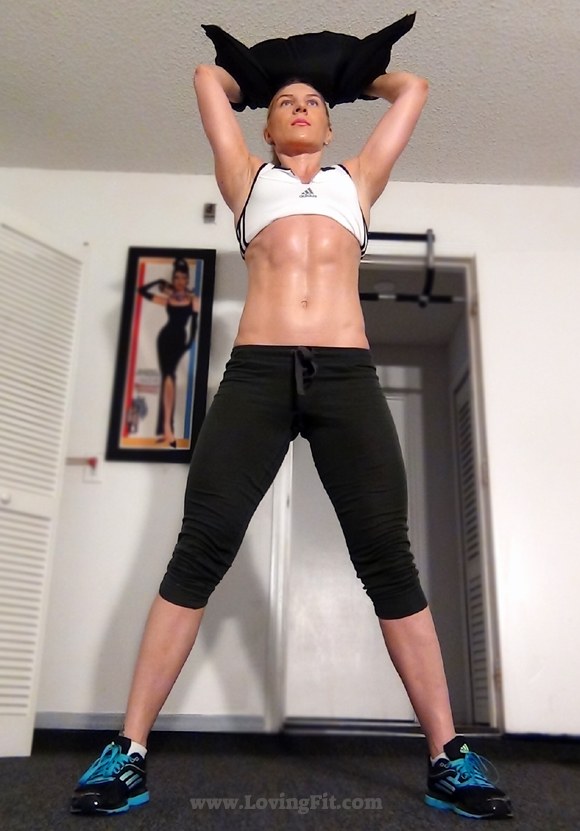 Hi Everyone,
Today's workout was focused on the upper body and it is a follow up routine to " I'm Alive Workout ". I've been really enjoying these one round and lot's of repetition circuits, I also noticed it makes me push harder during my training. Another thing I noticed I finally started getting super sore again, I haven't been this sore for a while.
Every time that I post a workout, I always want to remind you that to get great results from these routines you have to perform every exercise in the proper form. Your form is your results! If your back is not straight and your abs are not tight, then your body is not working the way it's suppose to. Another thing you need to have in mind is your nutrition, because nutrition will take your results from good to great!
Make sure to always do a good warm-up before beginning to exercise.
Workout Explanation
In this workout I was using my timer
 as a stopwatch, half of my my pink toy Lebert , a Pull-Up bar
, balance ball, my 40 lbs VersaFit bag from Power Systems ( you can use a back pack filled with books to substitute for this equipment ) and a medicine ball ( the weight of the medicine ball doesn't really matter, cause I was only using it for balance ). If you don't have Lebert, don't worry about it because you can use dumbbells for grip instead, I explain everything in the workout recap part of the video.
Set your timer
 as a stopwatch. There is only one round of 8 exercises, so push extra hard!
Diagonal Push-up – 30 reps
Absicle Exercise – 30 reps
Regular Grip Pull-Up ( assisted ) – 30 reps
Side Absicle – 20 reps each side
Step Over Push-ups – 30 reps
Back Lifts with a Balance Ball – 30 reps
Wall Walkers – 50 reps
Bag Lift and Press – 30 reps
This was a total ripper for me! It took me 20 minutes and 34 seconds to finish this workout, try to beat my time!
PS – I found this great video on how to make your own medicine ball at home.