Papaya The Miracle Fruit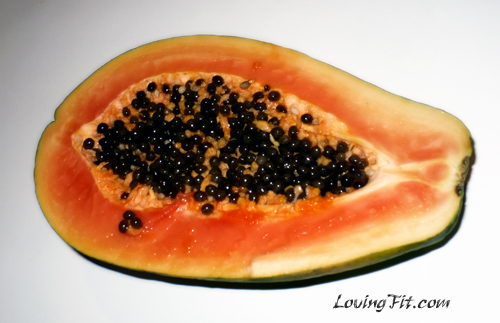 As I was browsing through different fruits today in supermarket, I thought to my self.  Hmm, it's been a while since I had a papaya fruit.  So I went ahead and picked it as my fruit of the day :).
I got home, and decided to do some research about papaya.  It is quite a maracle fruit.  It has a lot of benefits as well as Vitamins and minerals. Not only it is the most easily digestible fruit, but it helps with digestion of other foods as well.
Papaya in Your Nutrition
Papaya has a full of Antioxidants. Such as Vitamin C.  In fact a whole fruit contains your full intake of Vitamin C for the day.  I looked at the nutrition facts of papaya and it comes to 144% of your daily value.   Antioxidants strengthen your immune system, and prevent you from getting colds, coughs and flue.
It also has about 30% of your Vitamin A intake, which is really good for your skin.  It also has about 15% of potassium.
It doesn't' have a lot of calories when compared with it's nutrition density.  If you want to loose weight this  fruit is  for you.
It naturally strengthen your immune system.   If you are suffering from a cold, flu or any type of inflammation yo should include At least 1 whole papaya fruit per day.
Papaya in skin care
This Angel fruit ( as what Columbus called it ) has big benefits in skin care therapy. When applied to the face, it reduces wrinkles, nourishes the skin with and speeds up the formation of new skin cells, plus exfoliates the skin.  This comes from Vitamin A that is in the fruit.   In addition to that  Vitamin C that inside the fruit  is  promoting and  rebuilding  new cells and creating elasticity for your skin,  as well as  getting  rid of dead skin cells.
I am a big believer in natural remedies for face masks.   I always do my own facials at home.
You can make a really great face mask just by mixing papaya meat with honey ( raw honey, I wrote about it here ).   While papaya will exfoliate your skin and give it a tightening effect, honey will provide moisture to the skin.
Make sure you steam your face for at least 5 minutes before applying the mask.
I will also begin to experiment with different natural remedies for face masks and toners.   I will be posting it in my blog to tell you which one I like and which one's I didn't.
Do you have any recommendations for natural face masks or toners?
Leave me a comment I would love to hear your feedback?
Tatianna