How To Lose Weight Using The Glycemic Index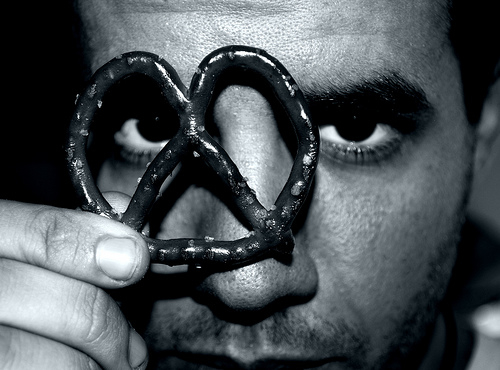 Hi everyone,
Happy beginning of the week!  I hope you enjoyed your weekend, I know I did :).  Tomorrow we are filming a new workout routine, and it's gonna be super fun because we are going to be using furniture movers as our mini equipment, thanks to Eli who suggested it :).  But today we have another guest post,  please welcome David Dack.
How To Lose Weight Using The Glycemic Index
When it comes to building the best eating habits for permanent weight loss, opting for the Glycemic Index eating approach is the way to go. The glycemic index approach, or G.I. diet for short, is a measure of how every type of carbohydrates affects blood sugar levels. Foods that are high on the G.I. have a higher impact on blood sugar levels, usually leading to weight gain and other serious health troubles.
On the other hand, foods with lower G.I. rankings are the best options to help you lose weight, prevent disease and get into the best shape of your life.
As a result, if you're looking to follow a glycemic index eating approach — whether it's for losing weight or just improving your health status—here are some guidelines that can help.
What to Eat and What No to Eat
The glycemic index eating is simple and easy-to-follow. Unlike most popular diets, you will not need to count calories or eliminate entire food groups. Most people fail with fad diets because they're too strict and can't be sustained for long. The glycemic index approach is broken down into three main categories: high, medium and low GI foods.

• High GI foods: The foods ranking on 70 and above tend to have the biggest impact on blood sugar levels, thus they lead to weight gain and other troubles. Examples include white bread, white rice, dried fruits, cakes, baked potatoes, watermelon. Do your best to cut on these types of foods or eat them in moderation.

• Medium GI foods: Typically any food ranking between 55 to 69 have a medium impact on blood sugar levels. Examples include sweet corn, bananas, raisins, shredded wheat, and raw pineapple. These types of food are not your best choices if you're looking to shed the extra pounds, but once you've reached your desired bodyweight, you can start reintroducing them moderately into your eating regimen.

• Low GI foods: Any food ranking below 55 on the G.I. is a healthy and good choice. Examples include vegetables, peanuts, cherries, raw apple, peas, skim milk, beans, lentils, meat and fish. Make sure to get the bulk of your caloric intake from these food groups as they'll help you lose the weight without sacrificing energy and performance.

Eating Based On the Glycemic Index

To get the best out of your G.I., make sure to do the following:

• Eat smaller portions. Opting for this eating strategy will help you stabilize your blood sugar. As a result, you're better off consuming frequent meals throughout the day instead of consuming only three large meals as doing so is the best way to keep you blood sugar balanced, your mind clear and energy levels running high.

• Eat natural foods. When it comes to choosing a low GI produce, staying close to nature as possible is critical. The less food has been processed, the better it will for your health and the lower it'll rank on the GI index.

• Eat protein. Not only consuming protein with every meals helps you build muscle mass and recover faster, it'll also help you keep blood sugar levels balanced and control hunger and appetite.
Here you have it! Now you need to start practicing what you've just learned. Nevertheless, don't feel the urge to make a big shift, instead shoot for incremental progress and work on that. And in no-time, you'll definitely get great results.
About the author
David DACK is a runner and an established author on weight loss, motivation and fitness.
If you want more free tips from David DACK, then visit Runners Blue Print  and for a limited time you can download his 35-Pages "Weight Loss By Running" eBook for FREE.
If you really want to Lose Weight fast and forever, this is a proven step-by-step technique that can help. You can lose up to 5 pounds each week by just following this simple report. So what are you waiting for?