Grape Seed Oil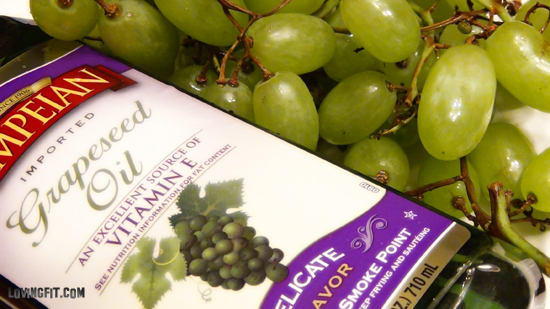 A few weeks ago I discovered grape seed oil in the cooking section of my supermarket. I always know that this oil has been always used in anti-aging skin care and hair care, but it is also very popular in dietary use as well. This is a great alternative to other oils you might be using, it is very high in antioxidants and it is far less expensive. Here is a little info on what this wonderful oil is all about:
Grape seed oil is extracted from the seeds of grapes, mostly wine grapes. Grape seeds are discarded and I believe because it creates less waste, they are turned into oil.
Grape seed oil has a very high amount of Vitamin E, 25% of your daily intake. It is also a great sours of flavanoids, lionleic acid and proanthocyanidins which is powerful antioxidants. These antioxidants protect your body from free radicals and help to slow down cell aging process. The more produce we consume with antioxidants the more we help our cells to protect them selves.
Grape seed cooking oil contains a high amount of omega-6 fatty acids and smaller amounts of omega-3 and omega-9 fatty acids. Omega-6 is an essential nutrient that you can only get from food, because our body cannot make it on it's own.
When I compare grape seed oil with other oils on the market such as canola or olive oils, grape seed is certainly a better deal,  it is also far less expensive. I bought a 24 fl oz bottle for 4.99, that's a great deal considering that it I will also be using it for cosmetic purposes.
Yesterday I tried using it on my skin and hair, and I absolutely loved it. My skin and hair felt baby soft the next day. My other favorite all purpose oil as you already know is Raw Coconut Oil, but it's a lot more pricier then grape seed oil and I can only use it as a body moisturizer at night ( because it really makes you smell like coconut and I don't like smelling like a fruit ), but I found that I can use grape seed oil during the day, because it has a very mild smell.
When you purchase grape seed oil, make sure it is marked as food grade and you will find it in cooking oil section, because they also sell cosmetic use grape seed oil ( it is processed differently and is not good for cooking ). Me personally I would only purchase the food grade, as I don't see the necessity to buy two different kind of grape seed oil, so food grade will work as all purpose.
I also found a really good article written about grape seed from University Of Maryland Medical Center that you can read and it will give you a little more info.