Sexy Arms For The Summer Workout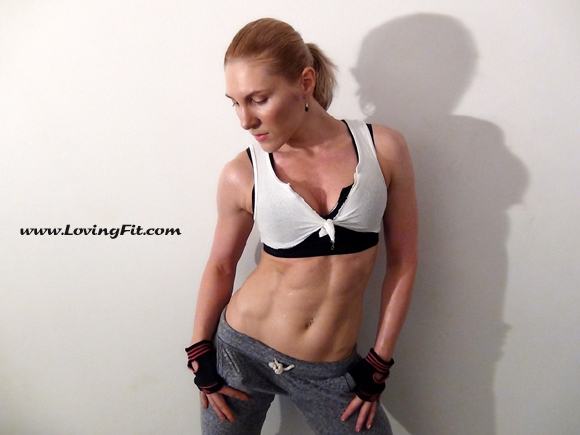 Hi everyone,
I am back with another fun circuit training upper body routine, which is a follow up to " Get Your Perfect Body Workout ". This routine was quite simple as far as the exercises go, but don't be fooled by it's simplicity it was a burner. I also have a cool new exercise for you to try :), I hope you are gonna love it as much as I did.
I also wanted to ask you guys if you have any video requests about nutrition or anything else as well, I would like to know what you want me to talk about.
Now Let's Get To The Workout!

Workout Explanation
In this routine I was using my timer
, a set of dumbbells, My Pink Lebert ( you can use 2 chairs if you don't have a Lebert ) and a brick to elevate my feet ( you can substitute a brick for a chair ).
There were only 3 exercises, 1 combo, only 8 reps each for the total of 6 rounds. After the workout I did 15 minutes of light jump rope skipping.
Before your workout make sure you do a proper warm-up, especially your back and your knees. And as I always tell you ( you know what's coming 😉 ) – " Proper Exercise Form is always more important then speed ".
Set your timer
 as a stopwatch and complete the following for the total of 6 rounds. ( watch the workout recap part of the video for the proper explanation of each exercise )
Elevated Legs Shoulder Press – 8 reps
Dive Bomber – 8 reps
Hanging Split & Dips – 8 reps ( before you go into a dip make sure you are pausing in a split while holding your body tight head to toe and squeezing your triceps )
2 dumbbell curls & 2 push-ups combo – 8 reps ( 2 curls & 2 push-ups counts as one rep )
My time for this routine was 33 minutes and 47 seconds
Nutrition Tip
Your dinner should always include lean meats and complex carbohydrates such as veggies. Since we need less energy in the evening our body doesn't require anything more then complex carbs. This will also keep your blood sugar stable therefore helping your body to produce more HGH ( a hormone that regenerates your skin and helps your body burn fat ) when you go to sleep.
Have fun!!!