Magnetic Sweat Workout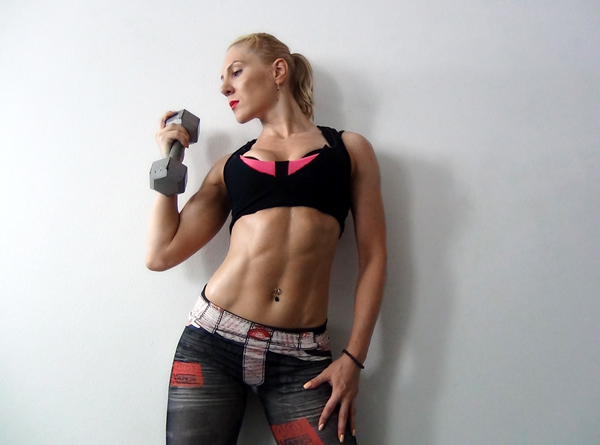 Hello My Dear Lovies,
Get ready for a very hard upper body workout!!! Lately I've been feeling that every workout is been getting harder and harder, maybe because it's autumn and I am feeling very motivated! Autumn is actually one of the best times of the year to start pushing your self, because in the autumn our internal clock want's us to start analyzing and plan for new beginnings. I wrote an article about this on EvilCyber.com, which will be posted pretty soon and I will give you that link once it's up.
Before starting this or any workout always remember to warm-up and practice good exercise form, stay tuned at the end of the workout to watch Workout Recap & Beginners Variations.
Workout Explanation
In this routine I was using my Gymboss timer
, a pair of dumbbells ( 10 lbs each ), my Versa Fit bag, a brick for leg elevations ( you can use a chair or a couch ) and a Pull-Up bar
.
This workout was broken down into 2 parts. First part was interval training without any breaks, but it was only little over 3 minutes long. This part will test your strength that you should of gained during the month of " Sharper Abs Challenge ", this part will also get your muscles nice and fired up for the second part of this routine.
Part one
Set your timer
for 2 intervals of 11 and 11 seconds, for the total of 10 rounds. There will be only 2 exercises and no breaks in between. Both of the exercises will be isometric. You will go through both exercises 10 times, but the time goes fast so don't think about the number of rounds too much.
Pull Pike Hold
Push-up Kick Backs
Part 2
This part is a circuit. Set your timer
as a stopwatch. There is only one very mean round of 8 exercises and there are lot's of reps.
ALWAYS REMEMBER – WATCH YOUR FORM NOT YOUR TIMER!
Elevated One Leg Clock Push-ups – 50 reps
Double Bike ( 1 up 2 down counts as 1 rep ) – 20 reps
Regenerate Row – 3 rounds of 10 per side
Bag Pick-up and 2 Press-Ups – 30 reps
Two Way Dive Bomber ( each time you push through, counts as 1 rep ) – 30 reps
Side Shoulder Raises – 3 rounds of 10 or 2 rounds of 15
Crab – 80 reps
Bent Over Side Raises – 3 rounds of 10 or 2 rounds of 15
Complete Beginners will cut the reps in half or just split the routine into 2 rounds.
After this routine I've done " Good Posture and Core Challenge " and " Total Body Stretching ".
Have fun training my darlings and have a wonderful weekend!
Hugs,
Tati
PS – I got my tights
on ebay ( everyone always asks me this question ).