Fifth Element Abs Workout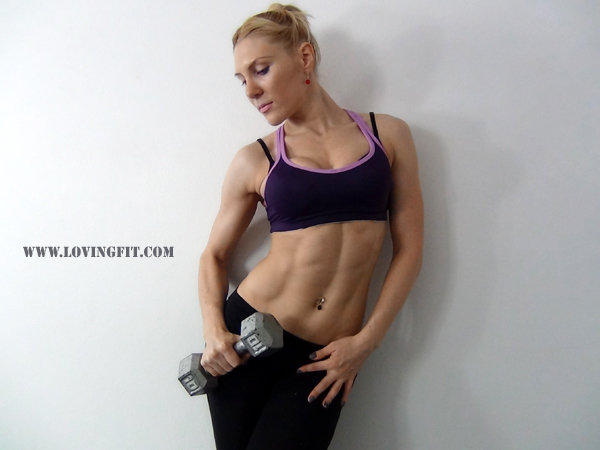 Hello My Lovies,
Finally NEW ABS & Core ROUTINE is here! I need to make a new one every other week, cause this will also give me a chance to break up my regular routine. This workout was a bit sneaky, cause it's one of those routines that you start feeling a few hours later all over your abs.
If you are adding this routine after your regular workout, then you've already warmed up. If this is the only routine you are doing for the day then I suggest you do a warm-up first. Make sure to add light card about 15 minutes after, because we always need to combine some kind of metabolic movements.
Workout Explanation
If you are new to Loving Fit, I suggest taking a look at this post " Creating Your Workout Plan ", there you will be able to figure out how to put a schedule together that will match your fitness level.
In this workout I was using my Gymboss timer
and a 10lbs dumbbell. If you don't have a dumbbell you can substitute it for a different object, get creative, don't be shy ;).
There are 2 parts in this routine, first part is interval training without breaks, and it's only 4 minutes long. Second part is done for the proper form and time, remember don't rush, watch for good exercise form and not your speed or timer.
Be sure to watch workout recap part of the video so you know the proper form of each exercise and variation for beginners.
Part 1
Set your timer
for two intervals of 30 second each, for the total of 4 rounds. Or you can set it for 1 interval of 30 seconds and the total of 8 rounds.
There are only 2 exercises and they will follow in this order, twice.
Reptile Plank Right Leg
Mini Leg Lifts
Reptile Plank Left Leg
Mini Leg Lifts
Part 2
Set your timer
as a stopwatch. There are 6 exercises in this order:
Weightless Crunch – 30 reps
Flexed Feet count 2 Scissors – 30 reps
Pointed Toes Reversed Scissors – 30 reps
Weighted Hard Rock Hard Core Exercise – 30 reps
Double Side Crunch – 20 reps per each side ( each 2 crunches counts as 1 rep )
Weighted Bicycle – 50 reps
My time for part 2 was 14 min 28 seconds.
Have Fun with your training!
Hugs,
Tati
PS – My this weeks article for EvilCyber.com " The Real Way Of Dealing With Anxiety "