Circuit Training – Tightest Booty Workout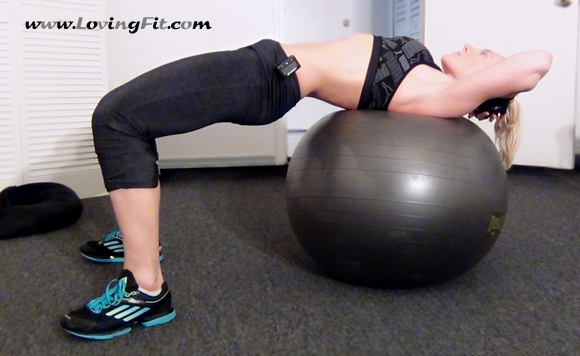 Hi Everyone,
Let me begin by saying – today's workout falls into my top 3 workouts for the booty on Loving Fit. It was very tough, but most importantly it targeted those really hard to reach areas underneath your booty. The exercise follow in a specific order to get that maximum burn. This was a circuit training routine, and it is a follow up to " Upper Body & Core – Let It Go Workout ".
The only thing that I was using in this routine was my Gymboss Max timer
, a chair, a balance ball and my 40 lbs VersaFit bag from Power Systems ( you can make a bag that is similar to mine your self, my friend Troy from Cube Dweller Fitness has the instructional video on how to do that ).
Make sure you do a good warm-up routine before beginning to exercise.
Workout Explanation
Set your timer
as a stopwatch. This is a circuit training routine. The whole circuit is performed in the following order for the total of 3 times. Always watch the the proper form of each exercise and each rep. Never sacrifice your form for speed, because proper form is what will give you the results of your workouts NOT speed.
Side Step Lunge ( Weighted ) – Right Leg – 20 reps
Core Kicks – Right Side – 20 Reps
Side Step Lunge – Left Leg
Core Kicks – Left Side
Bulgarian Split Squat – Right Leg – 20 reps
Bulgarian Split Squat – Left Leg – 20 reps
Butt Fat Blasting Exercise on a Balance Ball – 20 reps
My time for this workout was 29 minutes and 2 seconds