Circuit Training Combo Burn – Upper Body Routine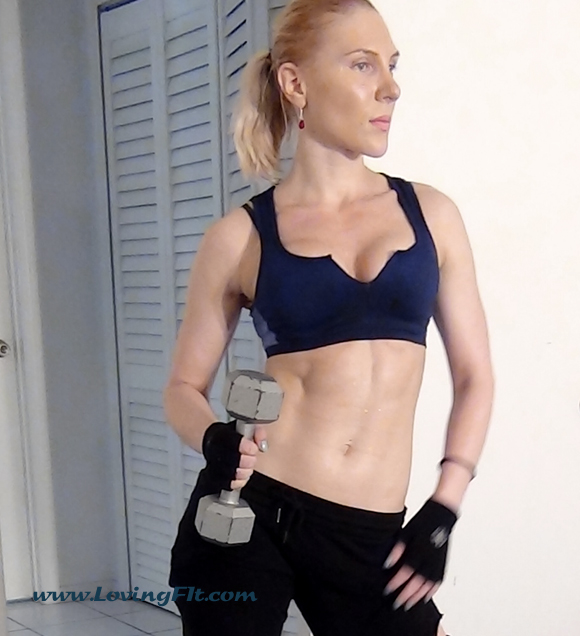 Hi Everyone,
I hope you are having an incredible week :), cause I am! I have another great workout for you and it's an upper body routine that is made of combos ( my favorite 🙂 ). This workout is a follow up to the " Pure Torture Workout ". I originally was planning on doing more rounds of this little devil, but as I finished the first round I realized that was just a crazy thought.
In this workout I was using my timer
as a stopwatch, a pair of dumbbells ( 10 lbs each ), a Pull-Up bar
, my 40 lbs VersaFit bag from Power Systems and my My Pink Toy Lebert . ( if you don't have a pull up bar and Lebert you can use 2 chairs for dips, and 2 chairs and a broom stick for pull-ups ).
Warm-up warm-up warm-up – please do one! And always remember proper form is always more important than speed!
Workout Explanation
Set your timer
as a stopwatch. This workout is made up of 6 combos and you will go through them for the total of 3 rounds. If you are feeling brave and acrobatic today you can even push this little bad boy to 4 rounds, but I wasn't that daring today :).
Complete the following 3 times.
Push Back Push-up & 2 Side Plank Lift ( the whole thing counts as one rep ) – 6 reps total
Pick-up and 3 press ups ( counts as one rep ) – 6 reps total
Regular Pull-up & Wide Grip Pull Up ( both count as one rep ) – 6 reps total
2 Dips & 2 Close Grip Push-up ( both counts as one rep ) – 6 reps total
Front Raise and Bend over Shoulder Raise ( both count as one rep ) – 6 reps total
Dive Bomber & Shoulder Press ( both count as one rep ) – 6 reps total
My time
It took me… Drum roll… 34 minutes and 23 seconds to complete this routine.
PS – Since a couple of you mentioned that I should start dividing the workouts so they will be easier to find, I decided to separating them into different section.  Now the Upper Body and the Lower Body routines will have their own sections, and they both will be under the " Workout Routines " section.  But you will still be able to find all of them in " Workout Routines Page ".
Thank you guys for the suggestion 🙂
One more thing before I go, one of my blogger friends Jonathan from World Of Diets blog, posted a workout called " BodyWeight 500 Workout ".  This workout looks crazy challenging, I'm thinking about taking it on one of these days, if you would like to try a cool bodyweight only routine, give that one a try :).