Blue Voltage Workout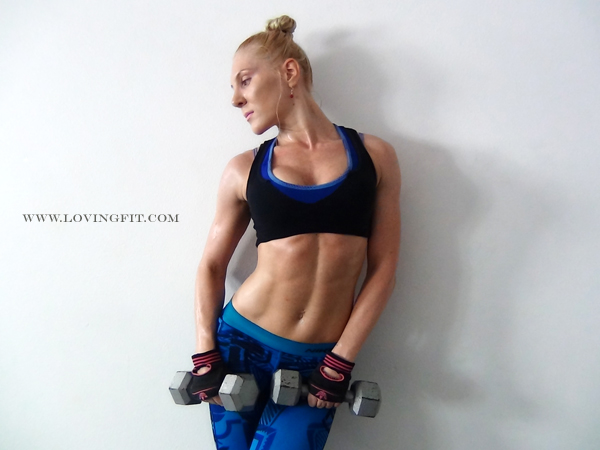 Hello My Darlings,
How is everyone doing with " More Fiber Less Starch Challenge "? I am doing pretty good with it, all though training seemed a bit challenging today, maybe it's the weather. It's been so freaking hot here in FL, but I'm sure it's crazy like that everywhere now. It's quite a challenge to train in a weather like that, good thing I have a pool I can jump into after my workout.
This week I've been very busy and when the busy times come I do 2 split routines and 1 full body routine. This is going to be a kick arsie full body workout! It might not look hard on video but once you are doing it in proper form you will be burning all over.
I wanted to ask you guys a question, it seems to me that my body swells up a lot during the hot weather and I look like a puffy duck, have any of you guys experienced the same thing?
As usual make sure you do a very good warm-up before you begin to exercise, you can follow me along in my warm-up routine. And the form nazi that I am I need you to always watch your form – quality is always more important than quantity.
Workout Explanation
In this workout I was using my gymboss timer
, a pair of dumbbells 10 lbs each, a chair and a balance ball. This workout took me 42 minutes and 11 seconds to complete, but you can be faster than me as long as you do it in good form.
Set your timer
as a stopwatch, there are 8 exercises total, but some of them are done on both sides. I completed 2 rounds of the following:
Step-ups with a dumbbell Right Leg – 30 reps
Step-Ups with a dumbbell Left Leg – 30 reps
Iso Back Lunge & Shoulder Raises Right Leg – 15 reps
Iso Back Lunge & Shoulder Raises Left Leg – 15 reps
Side Bends – 30 reps ( your core stays tight throughout the full amounts of reps )
Power Outward Palm Push-ups – 30 reps
Side Jump & One Leg Jump Up – 30 reps
Wall Climbers – 60 reps
Back Raises with a Balance Ball – 30 reps
Regenerate Row Right Side – 15 reps
Regenerate Row Left Side – 15 reps
Since it's the end of the week I am going to do a full body stretching routine.
Have a wonderful weekend darlings!
PS – This Monday we are starting a new tradition called " Monday Mingle " thanks to Alishia for coming up with a name. Not sure if we should do it every Monday or every other Monday, but it's going to be like a little game we are gonna play. There will be 5 questions either themed or random and we will all answer them. This way we can begin to get to know each other better and I think it's gonna be fun.
Also, make sure to check out my weekly article that I write for EvilCyber.com – " Workout Tips For Summer Heat "