Abs Shredd 360 Workout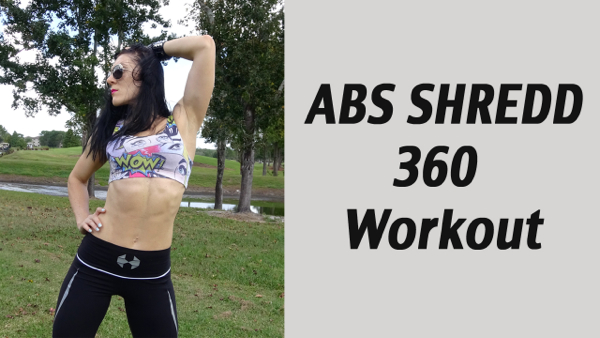 Hello my dear Lovies,
I've already posted this workout on my My YouTube Channel, make sure to subscribe to it, cause I always post them there first! As you can tell by the name, this workouts is designed to Shredd Your ABS! It has a total of 360 reps.
For Loving Fit Newbies 
If you are new to Loving Fit I recommend to check out " Creating Your Workout Plan " post. There you will be able to see how I put together my routines, and you can find something for your own fitness level. My philosophy is: Form is always more important than speed, so WATCH YOUR FORM!
Another thing that I really recommend all of my beginners to check out, is my post review called on What Is The Beta Switch. I think this plan is quite amazingly put together for someone who is just starting out and need a lot of guidance. I'm not a beginner and I found so much useful info learning from Beta Switch Program.
For Complete Beginners I really suggest to check out my review-post about The Beta Switch. This is an amazing program for complete beginners with tips and guidance not only about working out, but also nutrition and keeping your mind on track.
Workout Explanation
This workout consists of 6 exercises, 60 reps each, prior to your workout you will complete 2 minutes of Crawling Planks. The only thing I was using in this workout is a set of dumbbells ( 5 lbs each ) and I was also using a set of ankle weights ( 4 lbs per leg ).
I also started to make separate versions of my videos ( Russian and English versions ) are now separate, and all of my Russian versions you can find on my YouTube Channel.
My Time for this routine ( I timed each exercise separately ):
Dumbbell Extension Elbow Planks – 2:03 ( each extension counts as 1 rep )
Dumbbell Flies with Leg Lifts – 4:49
Dumbbell Extension Regular Plank – 2:13 ( each extension counts as 1 rep )
Sitting Tappers – ( each 2 taps counts as 1 rep ) – 1:25
Regular Plank Tap Run – 1:27 ( each 2 taps count as 1 rep )
Bridge Rock – 4:05
LovingFit Facebook Page  –  My Personal INSTAGRAM – Subscribe to My YouTube Channel – My Google Plus Page ( I'm really active on my Google Plus and I post things there that I don't post on my Facebook or other social sites ).