Abs Of Iron Workout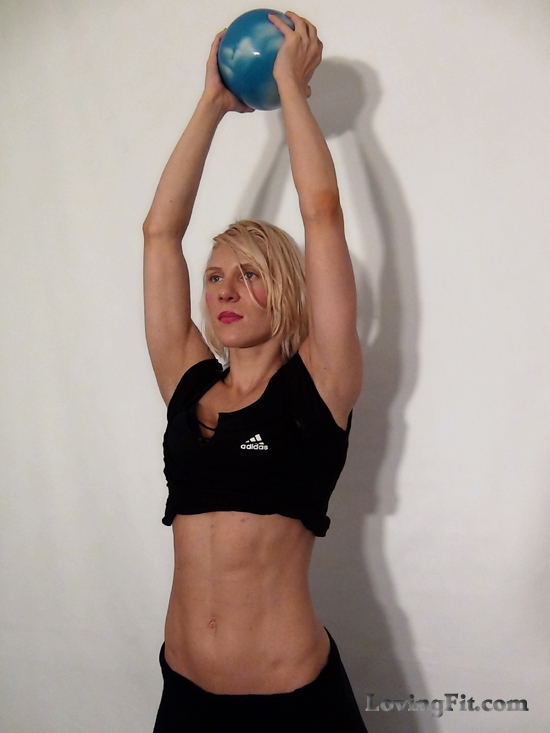 Today I did a really fun workout using an 8lb Medicine Ball. It was a circuit workout made up of 5 exercises. Using a medicine ball is very different then just using a dumbbell, because you can use half the weight but get a way more intense of a workout. I wrote about the incredible benefits of a medicine ball in one of my older posts.
As you can already tell by my body, I like to keep it lean and toned, but I don't like to have bulky muscle, and the workouts that I do will give you just that.
Workout explanation and the time that it took me to finish this workout is below the video :).
Abs Of Iron Workout Video
Workout Explanation
Set your timer Gymboss Max
as a stopwatch. You can also use a free online stopwatch if you like, or just a watch. But I do recommend having a timer, it's so amazing to have, I use it for many more things than just workouts.
You will go through 5 exercises in a circuit manner, with the total of 4 rounds.
1. a
Back Lunge & Medicine Ball Chop – Right Leg 15 reps
1. b
Back Lunge & Medicine Ball Chop – Left Leg 15 reps
Notes: It is very important to keep a proper for for this exercise, to lift the ball, you are using your abs, while keeping lunge position in an isometric hold.
This is how the movement goes ( Back Lunge & Over head Medicine ball lift, Chop, stand up and bring the medicine ball down. This is one rep. This is a whole body movement – Abs, Legs, Glutes and Shoulders are targeted the most.
2. Side Jump Push-ups – 10 reps ( this is actually not a very hard exercise alone, but when it's followed by Chops, your arms will be on fire )
3. Front squat chop – 20 reps
Notes: This is another whole body movement, using your abs, you will swing the ball up, over your head while squeezing your glutes. This movement should be very controlled, not just swinging it up an down.
4. Push-ups on a medicine ball – 6 reps
Notes: If you are beginner, you can modify this push-up by doing it off your knees.
6. Inward Ball Pass – 10 reps
Notes: This is also a very controlled movement where the abs are engaged at all times. On your way down, use your abs, to slowly go down, don't drop on the floor.
I completed this workout in 29 minutes and 37 seconds. Which was way longer than I expected. But I did keep a proper form the whole time, and that's more important than just finishing it faster.
PS – I was trying to have this workout posted faster, but I am also trying to get the best quality videos, and they take hours to export an upload. If you guys have any suggestions on how I can make my videos to upload faster to youtube in the best format, that would be very helpful 🙂 and I will be able to post more workouts a week.
PS – If you are having trouble viewing the video on the site, you can watch it here on YouTube.