My New Makeup :)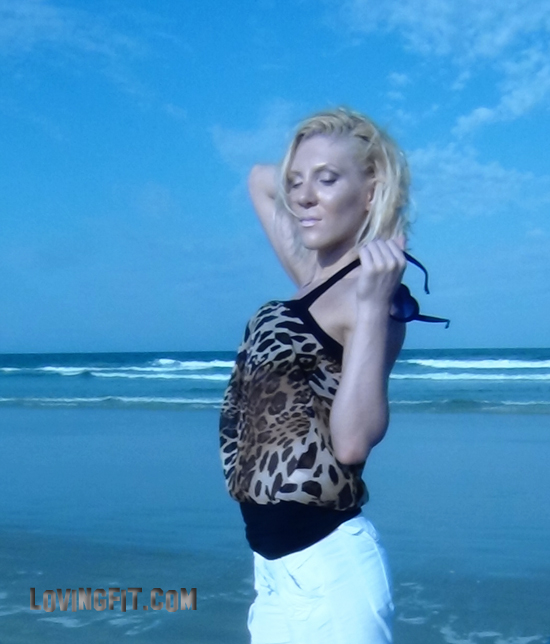 These days it's really hard to separate good quality products from just plain brand marketing, in which most of these things are just a hype, but not all.  This past week I purchased a couple of things which I totally love, and I also wanted to share my thoughts on a product I've been using for a few month's now ( and I think it's a total hype and quite over priced ).
So here is a picture of all the things I wanted to share my thoughts about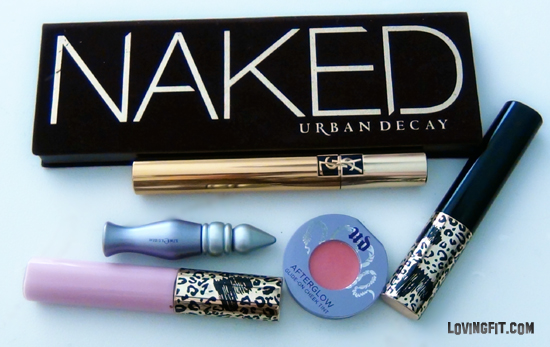 I am going to start at the very top things that I am absolutely crazy about 🙂 – Urban Decay Naked Palette!
I think this product was like the forbidden fruit, because it was always sold out. I kept hearing all these amazing things about it, but I am always skeptical and I had to try it out for my self. Most of the time, expensive makeup is just too much hype for me and from my personal experience not all pricey makeup is good quality.
This is the best palette I've ever own. What I liked about it is that the colors are very well pigmented and last all day, but my favorite part is I can wear them during the day and not look like a clown ( which most eye shadow did for me ). The color variety makes it easy to go from day to night, and these colors literally paint your face them selves lol ( you still have to use your brushes though lol ).
Here is a picture of the shadows inside: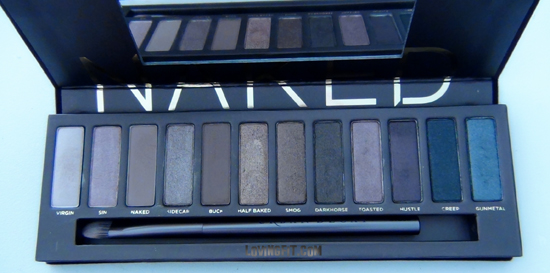 They also came with a primer  ( in a little silver tube on the picture ) that I actually tried for the first time, and it makes your eye shadow stay on all day ( the lady at the store told me that it can hold your makeup for up to 24 hours – I am not sure how I feel about that ). Because I was lucky that day I also received a free gift, the Urban Decay cheek stain.  I really liked that product, I am not sure if it is just a gift or it comes in full size.
Forever 21 Mascara and Lip gloss
I got this mascara and lipgloss because I loved the packaging and because the gloss looked like the perfect pink I always hunt for. They came in one package for only 4.50 and I was blown away by the quality of these two products. Mascara lasts all day and gives lashes great fullness and lip gloss is almost like a gloss and a lipstick in one ( and that perfect pink I love ).
That made me think, about a year ago I bought YSL rouge volupte lipstick and gloss ( both were 35 dollars each ). The lipstick was the perfect color, the packaging was beautiful and I loved it in the beginning but, after a while I noticed it dried out my lips. The gloss was nothing special, I wouldn't buy it again.
So this Forever 21 gloss is going to replace the 35 dollars lipstick and gloss, the only down side is the smell of the lipstick ( it smells like the artificial cinnamon ). But since the color is perfect and long lasting I am going to suck it up .
YSL Volume Effect Faux Cils Mascara
In few words: volume – incredible, length – unbelievable, staying power – 1 hour, 2 if you're lucky, price – a little crazy! I have to use my forever 21 mascara over it so It doesn't end up under my eyes in one hour. The only reason I can't take it back is because I already exchanged 2 other mascaras that were irritating my eyes, and ladies at Sephora are giving me dirty looks :).
For some reason beauty bloggers on Youtube are raving about this mascara, saying it's the best thing in the world – I guess it could be if it stayed on without me adding another mascara on top.
This is all for my tiny shopping , now I am looking for a new fragrance because I am pretty bored with all of my perfume.  I've been to 5 big stores already – no luck so far.  It seems like all the perfume now smells similar to each other and very ordinary.
If you know of a good place to buy perfume ( good perfume ) please share that secret with me because I am out of ideas.
Tatianna