Post Workout Meal Favorite Recipe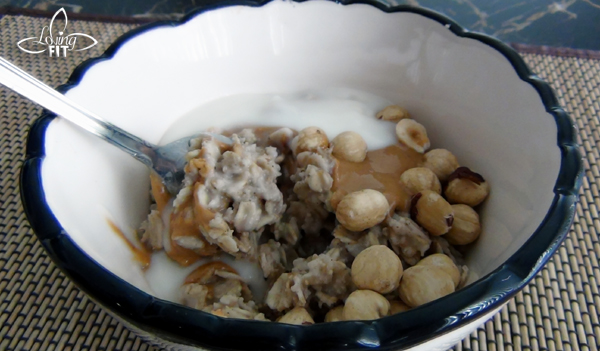 Happy Monday my Lovies!
May this week bring you beautiful days, nights and lot's of happiness!  Today I wanted to share with you guys my latest staple Post Workout Meal. I've been eating this post workout meal daily after each of my workouts for about 3 weeks now, I absolutely love how it feels me up and keeps me full after for hours. I finally found a recipe of boiled oats that I love and enjoy very much, before I mostly ate baked oats because boiled oats just didn't taste good to me and I never made them this way.
This post workout meal includes 3 staple ingredients that are the best for feeding your muscles after your workouts, as well as controlling your appetite throughout the day.  After I eat this meal, I'm not hungry for at least 5-6 hours, and this works great for me because you know I'm not a fan of 5-6 small meals a day thing, I always eat 2-3 big meals.
This is what I always eat after all of my workouts, and even if I don't workout, this is my staple breakfast every day: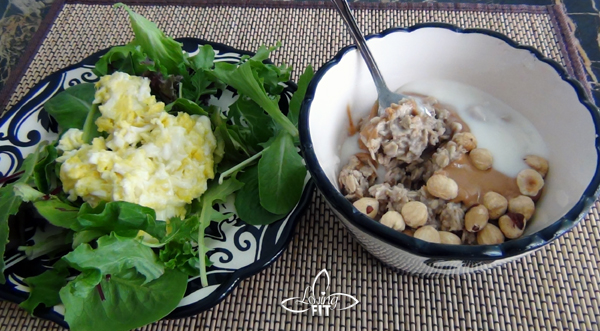 Organic Greens, 2-3 Organic Scrambled Eggs cooked with coconut oil.  And an amazing oats recipe that I'm about to share with you.
Ingredients for the oats recipe: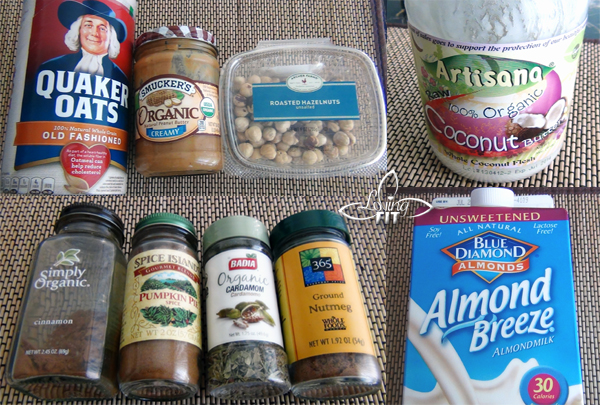 Old Fashioned Oats – ( not the quick oats, never use those ) – 1 cup
Spices: Organic Cinnamon 1/2 of teaspoon, Pumpkin Spice 1/2 of teaspoon, Cardamom 1/2 teaspoon, Nutmeg 1/4 of a teaspoon
Unsweetened Almond Milk – 1 small cup
Organic Peanut Butter – 1 tablespoon
Organic Coconut Butter – 1 tablespoon
Roasted Hazelnuts ( OMG these have been my favorite nuts lately ) – small handful
Place almond milk into a boiling pan, add spices and salt to taste ( I didn't mention salt as part of the ingredients cause it's common sense that one might need salt ).  Bring it all to boil.  Place the oats into the pan, mix them well and turn off the stove. Cover and let it stand for 10 minutes. I never boil my oats, when they stand covered for 10 minutes they become soft naturally. 
When 10 minutes have passed, add the peanut butter, coconut butter and hazelnuts. ( sometimes I also add 1 small apple or some berries if I have them ).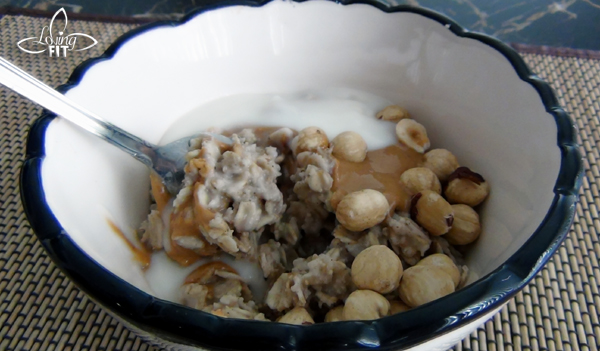 Now, this post workout meal works great if your goals is muscle and fast recovery.  Since I'm not trying to lose weight, I do not watch my healthy fat intake as much, I pretty much allow my self to eat things that I love without measuring them ( once you reach your goals you don't need to be that strict with your food ).
But, if your goal is weight loss, then I suggest not adding peanut butter, coconut butter and hazelnuts to your oats, but you can add just apple or berries. 
The beauty about being in shape and building muscle, is that once you have a good amount of muscle you can allow so much more into your diet and you will still be in great shape with great muscle definition.  Fit lifestyle doesn't have to be torture, it's all about balance and never starvation, overtraining and restriction.
What is your guy's favorite post workout meal?
Have a wonderful week my Lovies,
Hugs,
Tati
LovingFit Facebook Page  –  My Personal INSTAGRAM