Kale Chips Recipe a Healthy Snack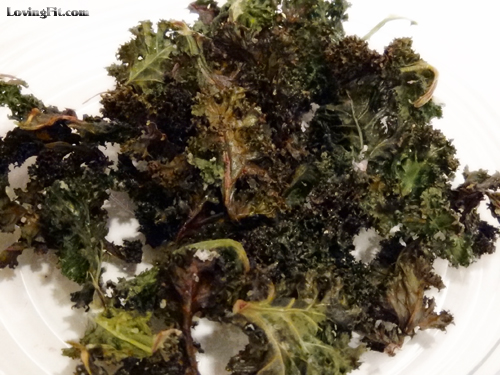 Yesterday I got a comment from one of my regular visitors to LovingFit – Mike, he suggested that I should try making Kale chips. I am so thankful for Mike's suggestion because it's absolutely delicious. It's very simple to make, and it tastes better than potato chips.
The Ingredients:
1. Kale
2. Olive Oil
3. Sea Salt
Set your stove to pre heat to 380 degrees
Take Kale leaves and place them on a baking tray with a baking sheet on it.
I poured some olive oil on my hands ( clean washed hands 🙂 ) and then patted the kale leaves, so the oil would be spread evenly on to the leaves.
Salt it just a bit with sea salt, and bake it for 15 – 30 minutes depending on the amount of Kale.
It is very important to eat and snack on foods that will not sabotage your health and your training.
Many people think that eating healthy means to not enjoy their life,  or to go on some kind of a diet. But that's completely not true, you can eat healthy and still love all your food and enjoy your life.  You just have to know how to substitute junk food with good for you foods.
You can still have desserts, pizza, pasta and all other things you love, it's the ingredients you prepare your food with that count.
For example:  If you want cookies make them with multigrain flower, omega 3 eggs, raw cacao, raw honey and almonds ( this is just an example ) – instead of the usual things you make cookies with ( white flower, table sugar etc ).  The same goes for Pizza – use multigrain flower, organic mozzarella cheese, wholesome ingredients.  Trust me it will also taste much better.
Like these Kale chips ( Mike recommended ) – they taste delicious and you can substitute potato chips with something like this.
Do you have any healthy snacks you recommend?
Tatianna