Chicken Portobello Soup Recipe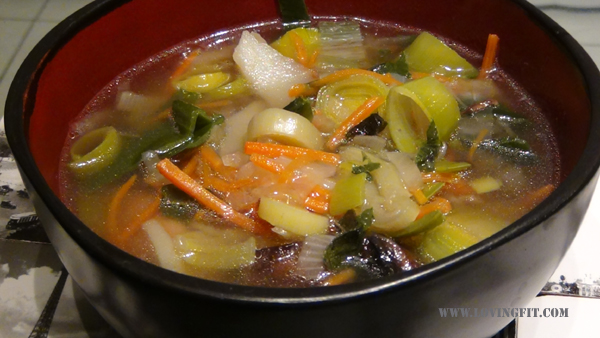 Hello My Lovies,
I am back with another soup recipe, this is the soup I was eating yesterday when I posted my Food Diary Wednesday 2. In Russia we always make lot's of soups, we literally have some kind of soup daily.  I love making them because I have a big pot of it which lasts me for 3 days, and that would be my daily lunch.  Lately, I've also been using mostly fresh herbs for my soups and I always add fresh veggies, Arugula is my favorite to add.
This will take you about 25 minutes to make.
Ingredients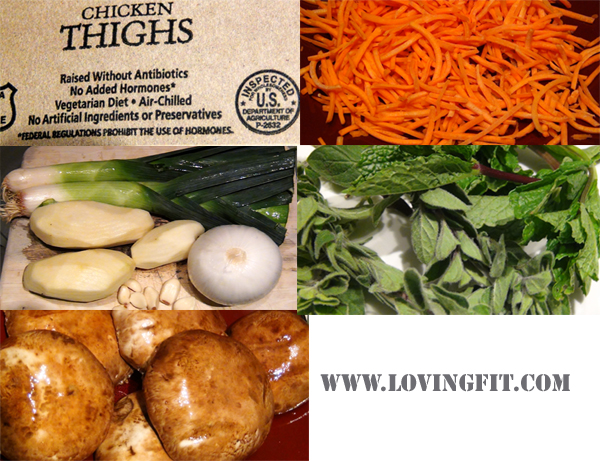 Chicken Thighs – I used 4 big pieces and I cut them into small ones
Potatoes – 3 count
Large Onion – 1 whole one
Leek – 2 count
Garlic ( I used fresh one this time ) – 7 pieces
Organic Portobello Mushrooms – 6 count
Fresh Herbs – Mint and Oregano
Carrots – 3 handfuls ( I bought it already cut, I'm terribly lazy when it comes to cutting veggies )
Oil of your choice ) I used Walnut oil
Sea Salt – to taste
Preparation 
I always use fluoride free water for my soup.
Take the skin off the chicken and cut it into small pieces, peel and cut the potatoes.  The pieces of potato shouldn't be too small.  Place both to boil in water on medium heat, salt it to taste. Be careful not to overcook the chicken, because you don't want it to be too rubbery.
I boiled mine on medium for about 10 minutes, then turned it to low for 10 additional minutes. 
Next you will cut the portobello mushrooms and fry them for about 3 minutes in Walnut Oil ( or oil of your choice ). When the chicken and potatoes had been cooked, add the portobello mushrooms to the pot.
Cut the onions into small pieces, and fry them until it's golden, but not too golden.  Cut the leek and add it to the frying pan with an onions, also add the carrots, mix everything. Place it on low heat and cover, let it cook on low heat for about 3 minutes, don't overcook it.
Now, place all the veggies from the frying pan into the pot with chicken, potatoes and mushrooms.
Next you will add, fresh Mint, Oregano and Garlic ( cut in small pieces ).
Let the soup stand for about 15 minutes. When serving add fresh greens of your choice, as I said above I love to add Arugula, and some extra mint.
Enjoy!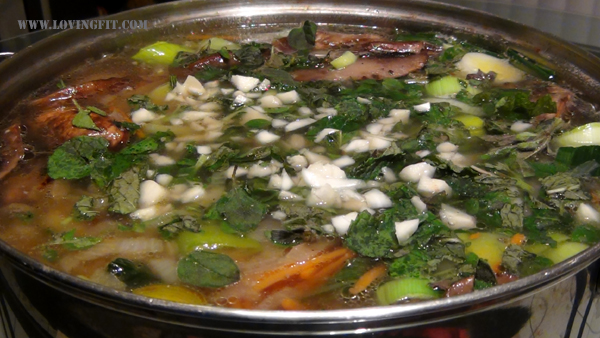 Hugs,
Tati