My Beauty Rules And Secrets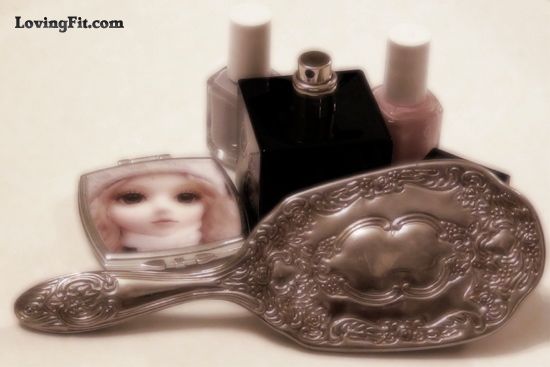 Today I wanted to share some of my personal beauty rules and secrets that I live by. I believe that nature gives beauty to everyone, but it is up to us how we take care of it.
Growing up in Russia I was always around women who always had it all together and were put together beautifully.  I guess it is something that's part of our culture, women always dress up, have a perfect manicure and pedicure, even if they are going out to the supermarket for food. In Moscow you will not see a woman in sweat pants or flip flops, if you do, she must be sleep walking, LOL.
When we look good we feel good and that's a fact!
So these are my beauty rules and secrets:
1. Always have clean brushed hair
Hair is important! It can make or break how you look, and to keep it clean and brushed at all times is a must. I use to have terribly brittle hair, but I learned how to take care of it, and that is no longer a problem for me. I wrote about how I take care of my hair in on of my earlier posts " Secrets To Healthy Hair ".
If you have split ends, you can use coconut oil to mend them, it works wonders. I also found another incredible product for split ends that I love – Argan Oil. Since I've used this oil, I haven't seen a split end on my head.
2. Always have a pedicure and a manicure
I do it my self, all the time. I've been doing my nails my self since I was in first grade. Get a cuticle cream, a couple of supplies and under 15 dollars you can have your own mani and pedi kit at home. I do my nails once a week, every week. It's a routine that only takes 30 – 45 minutes and it will have a great impact on how your feel and your overall appearance.
3. Take care of your skin
I wrote a post about skin care as well. But I wanted to share some face masks I use on regular basis. I make them my self at home, they are completely natural and really help with my overall skin appearance. I never buy packaged face masks because they are full of toxins.
Natural Microdermabrasion Recipe
Mix one tea spoon of raw honey with two tea spoons of sea salt. Apply once a week. I also apply raw honey as a face mask twice a week, it makes my face super soft.
Regular  Face Scrub
Mix one tea spoon of raw honey, one tea spoon of virgin coconut oil, 3 tea spoons of brown sugar ( you can also add a little lemon juice, but don't' if you have sensitive skin ).
I also love to use regular baking soda as a face scrub, I think baking soda is just a miracle all purpose product.
Nightly toner
I don't use a night cream, but I came up with a recipe for this toner that I wipe my face with every night. I keep it in the refrigerator other wise it will go bad.
Half a cup of yerba mate tea
Half a cup of goat milk
A table spoon of raw honey
Mix all the ingredients, place it into an empty bottle and shake well before each use.
Body Care
I always make my own body scrubs as well, I have a great luxurious body scrub recipe in one of my earlier posts. But I don't always splurge like that. Most of the time I just mix a olive oil with sea salt and add just a bit of goat milk ( just a tiny bit ).
I use coconut oil ( virgin and unrefined ) as an all body moisturizer, it's the best. I completely illuminated all of the creams and lotions with chemicals. Our skin is our biggest organ and placing lotions with chemicals on it is toxic.
How to get rid of cellulite
I always hear this vicious rumor that every woman has cellulite. That is a myth!
I am not going to tell you what cellulite is because there is plenty of sites for that. But I am going to share my anti-cellulite secrets. Fitness and Nutrition being the obvious!
1. Water – before, during and after every meal.
Water flushes out toxins, cellulite is caused by toxins in the body ( chemicals in food, body lotions etc ), hormones and lack of physical activity.
2. At least 30 min of exercise 4-5 times a week
If you get at least 30 minutes of good workout 4 – 5 times a week and drink plenty of water, chances that cellulite won't stick around are pretty high. If you put in less then 30 minutes 4 or 5 times a week, cellulite will still be there when you wake up in the morning LOL. I would have to say that 30 minutes is a key number if you don't want cellulite. Usually if my daily workout doesn't reach 30 minutes, I do moderate jump rope routine after, which is never more than 10 minutes.
3. Dry skin brushing
You might of heard of that before but this is really a great way to increase the circulation through the body. I do this every day before my shower. The brush that I use has sort of rough bristles, the soft brushes don't work so well. So when buying a skin brush don't get the soft one.
Start at the bottom of your feet and work your way up in circular  motion, all the way up to your bum. Do that for 10 minutes total.
Another variation of increasing the circulation in your body is using a loofa sponge.  But it's hard to find the perfect loofa, because most stores sell only the soft ( not working kind ).  If you can find a loofa in it's natural state, it's suppose to feel a little harsh ( that's the right loofa ).
4. Use coffee as a scrub
Instead of throwing my used coffee away, I use it as a scrub. Caffeine helps to firm the skin. It is always used in firming lotions, but if you apply it straight in the shower when your pores are open, in it's natural form it works the best! It's a bit messy, but the results are worth it!
That's all for now, I will share some more of my beauty secrets with you a bit later, ( I don't want to spill the beans all at once 😉 ).