Meet Miguel The Guy Behind The Camera ( My Little Acrobat :) )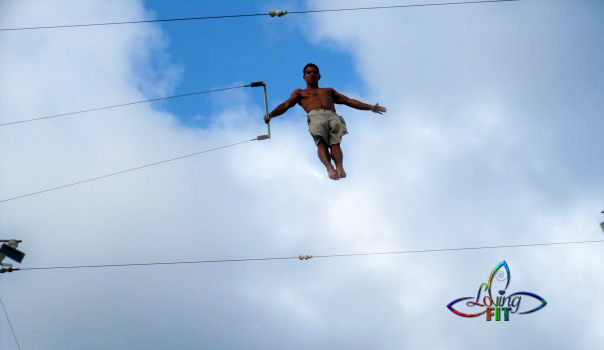 Hello my Lovies,
I am so happy to finally have this video approved by Cirque Du Soleil and excited that you guys will finally officially meet my husband ( my little acrobat behind the camera ). It was such a huge process to get this video up, and I really wanted my 300th video on my channel to be this video ( that's why I couldn't post any other videos for a while ).
Meet Miguel, a 5th generation circus performer, he has worked in the Circus with his family doing Flying Trapeze since he was 7 years old. I saw his videos where he is so tiny that they had to pick him up and place him on the bar. That was so cute to watch, your husband as such a small kid. By the time he was 11 years old, he was already throwing Triple Somersault, which is a pretty big trick for someone that young.
Miguel had traveled all over the world, and now for the past 8 years he has been part of an amazing company Cirque Du Soleil, show La Nouba. Besides for being a trapeze artist he is now one of the main characters in the show. The character is called The Little Walker, it's kind of a funny character to play and it gives huge contrast form the Trapeze that he was used to doing for all his life.
We have been together for 15 years now, married for 10, you can say we literally grew up together Physically and Spiritually as well. We are the total opposites, he is very calm, private, very patient which often makes me question if he is a real human, and he rarely gets emotionally compromised. I'm on the other hand extremely emotional, not as private and always get emotionally compromised quite fast, so we balance each other out.
Enjoy the video my Lovies!
( I HAVE FULL AND SIGNED PERMISSION FROM CIRQUE DU SOLEIL ( LA NOUBA ) PUBLICIST AND PR MANAGER TO USE THE MATERIAL IN THIS VIDEO. I CAN PROVIDE A SIGNED DOCUMENT UPON REQUEST).
Have a wonderful weekend full of joy, love and appreciation 🙂
Hugs,
Tati
LovingFit Facebook Page  –  My Personal INSTAGRAM