Jump Rope Workouts To Keep You Fit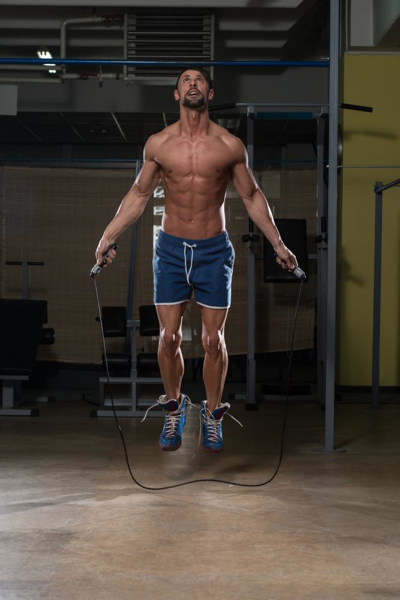 Jump rope is one of the most effective exercises to strengthen your bones, enhance cardio fitness and improve body balance,if it is done correctly it's also a great exercise for your abs. Jump rope is one of my favorite fitness toys to take with me when I go out of town ( besides for my interval timer ), because it's a very portable fitness accessory, which means you will not miss out on your training.
When I tell people you can workout anywhere anytime, they usually look at me like I'm crazy, saying something like: What can you possibly do at home or if you're on vacations except for just a few exercises. I always smile and say, just check out my website, that shall clear some things up for you.
Anyways, here are few simple examples of what kind of a workout you can do using only your bodyweight, a jump rope and an interval timer:
Simple High-Speed Circuit Workout
This workout can be done without a gym membership, because it requires nothing but a jump rope.
The high speed circuit workout is to warm you up for all other exercises.
Warm-up by doing a regular elbow plank for the total of 1 minute. Then follow it with 30 seconds of light to moderate jump rope, followed by 30 seconds of air squats.
Repeat it four times.
The Workout:
Set your timer for 2 intervals. First interval 1 minute, second interval 30 seconds, for the total of 6 rounds. There will be no rest, till you finish the first circuit.
High Knees using your Jump Rope – 1 minute
Push-ups ( variation of your choice ) – 30 seconds
Low Jacks using a Jump Rope – 1 minute
Tricep Dips ( using either a chair ) – 30 seconds
Side to side jumping – 1 minute (jump the rope hopping side by side as if your feet are tied)
Jump Lunges – 30 seconds
Light Skipping Free Style – 1 minute
Jump Squats – 30 seconds
Single Leg Skipping – 1 minute (30 seconds on each leg)
Mountain Climbers – 30 seconds
Jump Rope High Knees – 1 minute (pull your knees up as much you can while the rope moves)
V-ups – 30 seconds.
This was one circuit. Rest for a minute and repeat the entire high speed circuit 2 more times. Don't forget to stretch after.
Simple Full Body Workout
To warm-up do 3 minutes of light free style skipping.
The Workout:
Set your timer for 2 intervals. The first interval is 10 seconds ( rest ), the second interval is 1 full minute ( max effort )
Side Jump Lunges – 1 minute
High Knees with Jump Rope – 1 minute
Regular Jump Lunges – 1 minute
Spiderman Push-ups – 1 minute ( Spiderman Push-ups are just regular push-ups except you will be pulling your Knee towards your elbow using your abs, each time you do go down for the push-up )
Take a 1 minute break and repeat for the total of 7 rounds.
If you are a beginner at Jumping Rope, I found a couple of very helpful videos for you to check out:
How to workout at home without equipment is known to be one of the most effective exercises for cardiovascular health. But to gain maximum benefits, you have to build up to it, develop your balance to the point where you feel comfortable jumping the rope.
Make sure you're always using a good form while exercising, that is one of the most important points that I cannot stress enough. Quality of exercises is always more important than quantity of reps.
Enjoy your workouts!
Tati