Legs And Abs Vertical Power Workout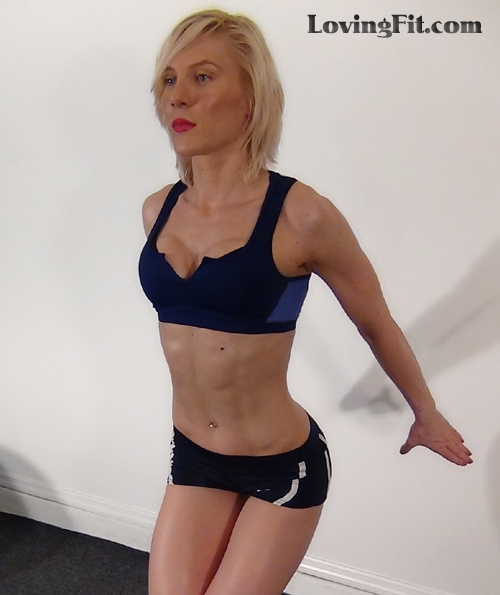 Today I had one of those days, you know the one's where everything just seems to go wrong, and the more it goes wrong the more we attract it. Today was completely against me, but I still managed some how to still make a video.
We had to shoot the workout twice, because some footage was lost ( I was scattered brained ). Then once the holy footage was uploaded to the computer, I somehow erased it from the camera by accident.
So now I don't have photos of the workout, cause I usually pull them from the camera. I will update the post tomorrow with pictures, for now I will just share my scores of this workout and the explanation.
This workout is definitely more advanced. Right now I decided to shoot just the workouts that I do my self.
The Workout Explanation:
Part 1 of the workout:
Set your Interval Timer for 8 rounds of 10 seconds and 40 seconds. 10 seconds is to write down your reps, and 40 seconds is when you push to the max.
The exercises:
1. Vertical Leap ( I have a love affair with this exercise, LOL )
2. Flying leg raises
Part 2 of this workout
You will set your timer as a stop watch, and you will do 3 exercises in a row for time.
1. One Leg Squat & One leg Tuck & Kick Up 25 reps on each leg ( do a one leg squat, one leg tuck and kick up )
2. Walking out Reptile Push-Up combo – 15 reps ( do a walking out push-up, staying in isometric contraction do a reptile, walk back to starting position, jump your legs back, jump your hands into a wider push-up, come up – this is 1 rep 🙂 )
3. Twisted Toe Touches – 50 reps
Part 3 of this workout
Also for time:
My Scores
Part one:
Vertical Leap – 20, 19, 17, 15
Flying Leg Lifts -42, 39, 41, 34
Part two: my time was 21:48
Part three : my time was 1:12
PS – If you are having trouble viewing this video on the site, you can watch it here on YouTube.