Dream Body Blast Workout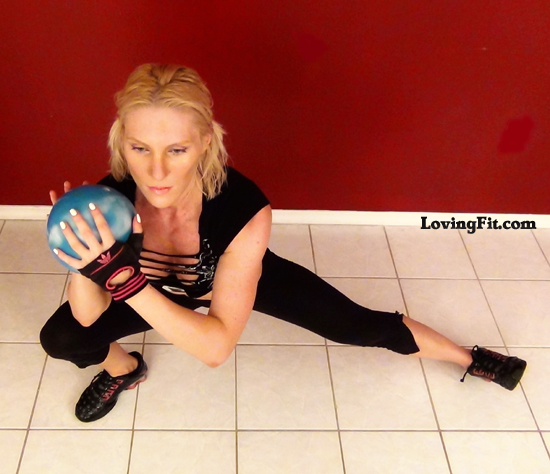 Today's workout is a combination of cardio and resistance training. The intervals were much shorter than I normally do, but the exercises were harder, so it was a perfect combination.
This workout broke down into 4 parts and each part was about 5 minutes long ( a tiny bit under ). There were 2 exercises in each part. I only took about 1 minute break in between ( just to catch my breath ), so don't be taking longer breaks than that. Since all together this was a 20 minute workout, I did some moderate jump rope cardio for an additional 10 minutes, this is just to give you your body that extra fat burning time it needs ( because the body starts burning the actual fat after about 15 -20 minutes of intensive training ).
Dream Body Workout Video
If you can't view the video on the site, you can watch it here on YouTube.
Workout explanation
For this workout I was using my 8 lb non bouncy medicine ball. In the first part of the workout I was also using a napkin for Saw slides ( you can use a furniture moving pads or a towel ).
This workout is in 4 parts which consists of 2 exercises in each part, so 7 exercises total ( one of them is done on each side ). The intervals for this workout are the same so you will not have to reset your timer.
Set your timer Gymboss Max
for 2 intervals of 10 seconds ( rest period ) and 25 seconds ( maximum effort ), for the total of 8 rounds. You will go through 4 rounds of each exercise.
Part one
1. One leg push-ups on a medicine ball
Notes: This is a very advanced exercise, if you are a beginner you can do this exercise on your knees ( with both knees on the ground ).
It is challenging to balance on the ball so make sure you practice the exercise the actual workout. Use your abs to balance on the ball.
Squeeze your butt on the side which leg is in the air. This is a full body exercise.
Notes: I am actually still a beginner at this exercise and it was the first time I tried it, and as you can see I wasn't' sliding very far. In this exercise you have use your core to slide back and forth.
Part two
Air chair leg lifts on a medicine ball ( switching legs each round )
Notes: This was a very challenging exercise for me and it was also the first time I tried it ( I don't know how I get these crazy Ideas 🙂 ). This gave me an incredible burn in my thighs and butt. The medicine ball creates uneven surface so it targets more muscles vs just doing this exercise without it. ( Make sure you are using a non bouncy medicine ball ).
If you are a beginner, don't use the medicine ball because this exercise is challenging enough, also don't squat too low, start slowly.
Part three
1. Tempo Low Jacks ( each jump inn and out counts as one rep )
Notes: This exercise is done in a tempo, so it's not suppose to be fast. The key is to stay low throughout the whole interval.
If you are a beginner you can try this exercise without going too low, always practice this exercise first.
Notes: Don't let your elbows go to the sides ( I use to make that mistake ). The elbows should stay tucked inn and the tension is placed on your shoulders.
I was standing on my toes for this exercise because I realized that it made the exercise harder which was good for me. But if you are a beginner try this exercise off your knees.
Part four
Notes: The key to this exercise is to stay low the whole time, you should feel every muscle in your legs burning.  The medicine ball creates a great resistance for this exercise.
If you are a beginner don't use the medicine ball.
2. Cross Knee Tucks on a Medicine Ball
Notes: Every time you pull the knee to the opposite elbow squeeze your abs. You don't need to go too fast while doing this exercise, it's about the quality not the quantity.
If you are a beginner do this exercise without the medicine ball.
I know all these workouts and exercises I do are very challenging. But the reason they are challenging is because you have to learn how to do them, I think of them as a sport. What I love most about my sport is not only the results but the feeling of accomplishment. Since I think of these workout as a sport, I want to get better and better at them. They creates results that you will never get in a regular gym using machines. Your body is a machine – use it!
I am also following my new nutrition adjustment, I have been doing really good with it.  I think I forgot to mention that Oats are good to eat as well ( as long as they are not processed oats in a form of bread ).  I actually came up with this great way of eating oats for breakfast, I will share that recipe with you tomorrow, it's totally delicious and a new way for me to eat oats :).
Now 🙂 let's get to my scores
1) – 7, 7, 6, 5
2) – 7, 6, 5, 5
3) – Right leg – 8, 10, 8, 8 – Left leg – 9, 9, 10, 9
4) – 8, 8, 10, 8
5) – 9, 8, 9, 9
6) – 13, 12, 12, 11
7) – 13, 12 14, 13
Share your scores!