Crossfit Diva Workout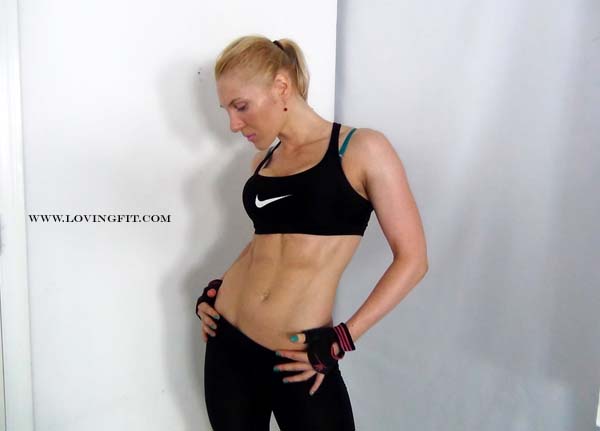 Hello my Darlings,
I have the coolest full body workout for you today :). It's so cool because there will be my favorite new push-up variation and of course a great burn for the whole body. This workout will take under 30 minutes to complete and you can also skip on cardio if you like because it will be included in the routine.
As some of you already know I will be doing a No Sugar challenge for one week starting this Monday, I hope at least some of you will be on board with me. I rarely do these no sugar challenges because I really enjoy my Clif bar every morning, but it's a good idea to drain some of that unnecessary sugar out my system. It's been a while since I've been strict with my self and I really want to get back to having some self control.
Now back to the workout part :), make sure you do a good warm-up before proceeding into this or any workout, it will really help you to prevent injuries. And of course practice your form, it's always more important than speed.
Workout Explanation
In this routine I was using my timer
, 12 lbs medicine ball, a balance ball and my 40 lbs bag. Now, before you go all out please remember that do every movement with quality and feel the burn!
This workout is divided into 3 interval training parts, and between each part you will do 1 exercise for the core. Each part of the workout has 2 exercises and 4 rounds total for each.
Part one
Set your timer
for 2 intervals, 15 seconds ( rest interval ) and 45 seconds ( max effort ), there is only 2 exercises.
Squat Pulse & Back Lunge ( stay low the whole time )
Army Combo
After the interval training part there is one more exercise and it's for the core
Balance Ball Pass – 15 reps ( 2 passes back and fourth counts as one rep )
Part two
The timer
 stays the same. There is two more exercises.
Push-Off Reptile Push-up
Jump Lunges with a medicine ball overhead
After the interval training part you will complete balance ball pass one more time for 15 reps.
Part 3
Your timer
 stays the same, and there is also just 2 exercises:
Mini Dead Lifts ( please watch the instructional part of the video for proper explanation )
One Leg Pike Shoulder Press
After this routine I did 3 sets of calf raises 25 reps each ( with my 40 lb bag ).
My Scores
Part one
1) 10, 8, 8, 7
2) 7, 7, 7, 6
Part 2
1) 9, 8, 7, 7
2) 18, 16, 15, 13
Part 3
1) 24, 22, 20, 18
2) 9, 10, 8, 9
PS – As you know I've been writing for EvilCyber.com every Friday and this week I wrote about the weirdest product I found the other day in the store – " Grapples – The Flavored Apples ".  I think some food companies are taking weird to the next level, LOL.
Have a Wonderful Weekend !!!
Tati