Upper Body Workout Routines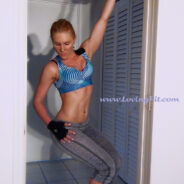 Hi everyone,
I have another amazing workout routine for you :), this workout is focused on the upper body ( arms, back and abs ) and it was done in HIIT style. This is a follow up routine to " Circuit Training Tightest Booty Workout ". I'm not gonna lie, I was struggling, this workout was very hard, a lot harder then it looked in the beginning.
I invented a cool new exercise, and this is the third time I've done this exercise and every single time after I do it my obliques go on fire!
read more