Upper Body Workout Routines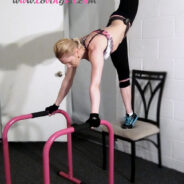 Hi Everyone,
I switched it up again! We have to have fun working out don't we? Today's workout was focused on the upper body and core and it was a follow up routine to yesterday's " Bubble Butt Workout ". I hope you're guy's butt was as sore and bubbly as mine!
Right now I am focusing a bit more on building muscle so the intervals that I picked were a bit logger than usual, but because all the exercises are combos the time flies pretty fast.
read more