Upper Body Workout Routines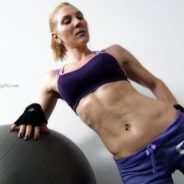 Hi everyone,
Hope you are ready for another upper body workout routine :). This workout wasn't very long but it will give you a great burn. After this workout I did an Ab routine and 10 minutes of light skipping.
Thank you very much guys for all of your feedback on video format, I am now sure everyone is on the same page and we all want edited workouts! We tried to shoot outside but it started to rain pretty bad so we just stayed inside, next week I'm hoping to get back to the park.
read more