Lower Body Workout Routines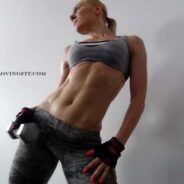 Hello my Darlings!!!
I am back yay

with a new lower body workout. This workout was done as an interval training and it only takes 22 minutes. I am so happy that so many of you guys had joined inn on the No Sugar Challenge for this week!!! But since we are doing this challenge the workouts this week will be just a little less intense than usual, the reason for that is not only because we are doing the No Sugar Challenge but also because we need to periodize our training.
read more