Full Body Workouts
This page is for Full Body Workout Routines only.  You can do full body workouts when you don't have enough time in a week but you're still trying to get your Fit on ;).  You should never do more then 3 full body workouts per week, and you have to take a day break in between.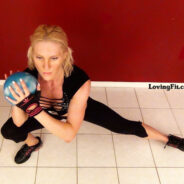 Today's workout is a combination of cardio and resistance training. The intervals were much shorter than I normally do, but the exercises were harder, so it was a perfect combination.
This workout broke down into 4 parts and each part was about 5 minutes long ( a tiny bit under ). There were 2 exercises in each part. I only took about 1 minute break in between ( just to catch my breath ), so don't be taking longer breaks than that. Since all together this was a 20 minute workout, I did some moderate jump rope cardio for an additional 10 minutes, this is just to give you your body that extra fat burning time it needs ( because the body starts burning the actual fat after about 15 -20 minutes of intensive training ).
read more