Full Body Workouts
This page is for Full Body Workout Routines only.  You can do full body workouts when you don't have enough time in a week but you're still trying to get your Fit on ;).  You should never do more then 3 full body workouts per week, and you have to take a day break in between.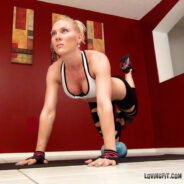 Today's workout was a lot of fun and I went through it without taking any breaks between rounds. This type of workout I call " The Sneak Upon You Later Workout ", it seems fairly easy to do cause I kept the reps pretty low ( this way you don't hit failure ), but you will be very very sore about 2 hours after completing this workout. I was using my 8 lb medicine ball, but you can also use a dumbbell. This workout is a cardio mixed with upper body resistance, legs & buns, and of course

abs. I will share my time at the end of the post.
read more