Full Body Workouts
This page is for Full Body Workout Routines only.  You can do full body workouts when you don't have enough time in a week but you're still trying to get your Fit on

.  You should never do more then 3 full body workouts per week, and you have to take a day break in between.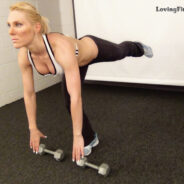 Today's workout was a complete muscle torture for the whole body. I think it's great to do these types of workouts at least once a week, it really kicks your body into shape. This workout felt like it went by really fast, but when I looked at the time it was a lot longer than I thought.
I was using a set of 10 lbs dumbbells, if you don't have dumbbells you can just use your own bodyweight or you can use a backpack and fill it up with books ( that will give you the extra resistance). Remember that you don't need equipment to workout, you just have get creative.
read more