Love UR Food Recipes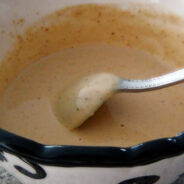 Greetings my Lovies!
Today I have this very quick, easy to make, healthy and delicious salad dressing recipe. I personally stopped buying salad dressing from the store because even the healthiest kind has some kind of ingredient that I don't like, like soybean oil ( now days most products have soybean oil in them ), or some kind of preservative, pretty much I'm done with store sold salad dressing. That's why I have to be creative and come up with something of my own. But, since I'm also not Martha Stewart and I don't like complicated recipes with many ingredients, my recipes always have to be super fast and easy to make with ingredients that most people will have laying around the house.
read more