Upper Body Workout Routines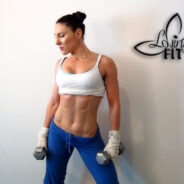 Greetings and happy Friday my Lovies,
I have a new Upper Body Workout for you guys, I've also added a Pyramid Cardio ( as part 2 ) just as a suggestion. I want to start adding cardio parts to all of my workouts, that way you always have a new cardio suggestion per each video. I also would like to start taking votes on videos each week. I'm going to either ask you guys to votes here on the blog or on my Facebook, that way I can always make the video that get's more votes, it will help me to know what you guys like to see in my videos.
read more